Inaugural Doctor of Physiotherapy students graduate from Macquarie University
22 September 2015
The first cohort of students have graduated from the inaugural Doctor of Physiotherapy program at the newly-established Faculty of Medicine and Health Sciences at Macquarie University.
The Doctor of Physiotherapy program is the only three-year masters-level physiotherapy degree in New South Wales, and was designed for students to develop advanced physiotherapy skills as well as business, management, leadership and advocacy skills.
Forty-six students have graduated from the program so far and are working in a variety of areas including sports, orthopaedics, brain injury and aged care in both private practices and hospitals.
"Future physiotherapists need more than physiotherapy-specific knowledge in order to gain and maintain employability, and our program offers the advanced skills needed to practice in an increasingly complex and challenging healthcare environment," said Professor Catherine Dean, Director of the Doctor of Physiotherapy Program and Head of Department of Health Professions.
Graduate Sam Cantori said the program is unparalleled in comparison to other courses offered.
"The Doctor of Physiotherapy program has not only provided me with the most current physiotherapy skills, but also skills in areas such as research, business, law, advocacy and policy, and the future of extended scope physiotherapy as a profession. These skills have laid a brilliant foundation for me in the industry to be an autonomous and strong clinician," said Mr Cantori.
Professor Patrick McNeil, Executive Dean of the Faculty of Medicine and Health Sciences said the first cohort of students graduating from the inaugural Doctor of Physiotherapy program is an important first step for the faculty.
"As we begin to launch our suite of pioneering degree programs and work towards our vision of hosting Australia's first fully integrated Academic Health Sciences Centre under a university's leadership, I see the Macquarie University health care enterprise as being the institution of choice for clinicians and researchers at the top of their fields," said Professor McNeil.
The Faculty will launch its first undergraduate program in 2016 through the Bachelor of Clinical Science. The degree will be an accelerated two-year program that will prepare graduates to pursue further studies for careers in medical and health professions, and will offer targeted preparation for the Graduate Australian Medical Schools Admissions Test (GAMSAT).
Filed under: Campus news Education Events Health & medicine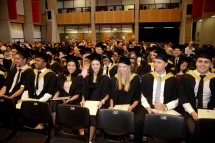 Media contact
02 9850 1055
View by category