Vice-Chancellor's learning and teaching awards announced
17 September 2015
The Vice-Chancellor's Awards, announced as part of Learning and Teaching Week, celebrates and rewards excellence. The Awards provide an important way of acknowledging the contributions made by university staff, whether academic, technical or professional, to the student learning experience.
The winners were celebrated at the annual Learning and Teaching Awards Dinner, held on Monday.
Said Professor Sherman Young, Pro Vice-Chancellor, Learning and Teaching: "The Awards are incredibly important. Not only do they allow us to recognise the very best in learning and teaching, but they provide us with an opportunity to reflect on and record our achievements, both as individuals, and as a university."
Vice-Chancellor's Award for Teaching Excellence
Dr Neil Harrison, Senior Lecturer in Education, Faculty of Human Sciences

Vice-Chancellor's Award for Programs that Enhance Learning
Dr Yvonne Breyer, Director, Learning and Teaching, Faculty of Business and Economics: Kickstart – Pre-commencement strategies for student engagement
Vice-Chancellor's Citations for Outstanding Contributions to Student Learning
Associate Professor Melanie Bishop, Biological Sciences, Faculty of Science and Engineering: For leadership in implementing active-learning approaches in the Sciences, that enhance student engagement, by developing a lecture-less flipped classroom unit.
Associate Professor Kevin Brooks, Department of Psychology, Faculty of Human Sciences: For extraordinary success in reinvigorating the teaching of perception with his engaging and enthusiastic style; his research-based approach, and his strong commitment to student-centered learning.
Dr Erik Lundmark, Senior Lecturer, Marketing and Management, Faculty of Business and Economics: For enriching the learning environment by harnessing student diversity and providing students with a genuine voice through inclusive, experiential, and engaging teaching practices in management.
Dr Rahat Munir, Head of Department, Accounting and Corporate Goverance; Mr Nicholas McGuigan, Senior Lecturer, Accounting and Corporate Governance; and Professor Philomena Leung, Associate Dean, Corporate Engagement and International, Faculty of Business and Economics: Excellence in innovative curricula design that connects the accounting student learning experience with profession and community through inquiry-based participation.
Dr Rowan Tulloch, Lecturer in Multimedia and Interactivity, Faculty of Arts: For developing innovative gamified strategies that motivate and engage students by demystifying the academic process and making learning enjoyable.
Filed under: Campus news Education Events Uncategorized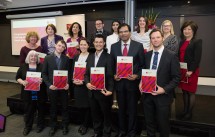 Media contact
+ 61 2 9850 4331
View by category