Macquarie's Professor Enrico Coiera wins highest international award in digital health
31 August 2015
Professor Enrico Coiera has been awarded the 2015 François Grémy Award of Excellence by the International Medical Informatics Association (IMIA), recently in Brazil.
The award highlights Australia's global research leadership in the use of technology to transform healthcare, a rapidly growing and multibillion-dollar business sector that is critical to making global healthcare safer, more effective and sustainable – a challenge facing all large-scale health systems.
Professor Coiera received the Award of Excellence, the highest award in this discipline internationally, for his personal commitment and dedication to medical informatics, and his contribution to medicine and healthcare.
Professor Coiera directs the Centre for Health Informatics at the Australian Institute of Health Innovation at Macquarie University, which is home to one of the largest group of researchers in digital health internationally, and is Australia's leading group in this field.
The award nominations noted Professor Coiera's multiple and original contributions to research in the safety of e-health, computer mediated communication, and decision support in clinical and bioinformatics.
"Enrico's research returns again and again to foundational questions about the nature of the human-technology experience, repeatedly challenging the dominant technology-driven paradigms of our discipline," said Dr Terry Hannan, Australian physician and health informatician, who spearheaded the nomination.
"Enrico's research has helped us see with new eyes how technology and humans interact, and in its originality and clarity, still genuinely challenges many of the existing paradigms of our discipline."
Professor Zac Kohane, Chair of the Department of Biomedical Informatics at Harvard, said: "Professor Coiera is the rarest of beasts in academic biomedical informatics. He sees the data clearly and without preconception, and therefore he has been an iconoclastic prophet years ahead of his time."
Professor Coiera said: "This is a very special award, because it was given in recognition of work that I am most passionate about, which is understanding the relationship between people and technology, and those who shape the design of really great solutions to hard problems "While information technology has the capacity to truly revolutionise modern healthcare, leading to a world of precision and personalised medicine, there are real challenges to making that vision come true."
"The award signifies that the health informatics community is recognising the importance not just of technology-driven research, but also of research into the ways technology falls short. When technology does not fit with the way we work, it does not always make the lives of patients and doctors easier," said Professor Coiera.
IMIA is the world body for health and biomedical informatics.
This is only the fifth time this award has been given since IMIA established the Award of Excellence in 2001.  The award is known as the IMIA François Grémy, in honour of Dr François Grémy for his lifelong contribution to health and biomedical informatics in his home country, in Europe, and internationally.
Filed under: Health & medicine Technology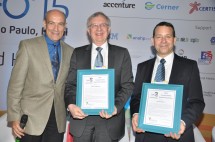 Media contact
02 9850 1055
View by category