Macquarie science students return to defend gold medal at global synthetic biology competition
7 August 2015
In September, undergraduate Biomolecular Science students from Macquarie University will be competing against their peers in the global scientific community during the International Genetically Engineered Machine (iGEM) competition in Boston, Massachusetts.
The iGEM competition involves students engineering genetic material and transferring it into the bacterial species E.coli, imparting it with new biological functions. Since 2013 the Macquarie University iGEM teams have been working toward endowing E.coli with the genes required to produce chlorophyll, the pigment in plants that allows them to harness the energy from sunlight.
Last year at the iGEM jamboree event in Boston, the Macquarie team was awarded a gold medal for their contribution. Dr Louise Brown, the team's chief advisor, was thrilled with the result: "It's such an achievement for Macquarie's iGEM students to be so competitive in cutting edge science on the international stage."
This year's team is expanding on the previous submission, attempting to synthesise the genes required for E.Coli to perform photosynthesis and produce hydrogen gas, a renewable energy source which is currently difficult to produce on a large scale.
"After their triumph in last year's competition, our students have their work cut out for them this year," said Macquarie University Vice-Chancellor Professor S Bruce Dowton. "I'm confident that they will excel again in 2015 and bring another gold medal back to Sydney. It gives me great pride to see our students doing so well in a field that has had and will continue to have a profound impact on the lives of so many people around the world."
The team will also be returning with a second instalment of the web based reality video series "So You Think You Can Synthesise", where viewers can post questions to the team and eliminate contestants.
The series forms a part of the competition's public outreach component where teams are encouraged to educate the community about the innovative field of synthetic biology and dispel any fears or misinformation.
Follow the So You Think You Can Synthesise series through the team YouTube channel: MacquarieAust iGEM2015
Follow us on Facebook: https://www.facebook.com/pages/Macquarie-iGEM-2015
Follow us on Twitter: @MQ_AUST_iGEM
Filed under: Education Other Science & nature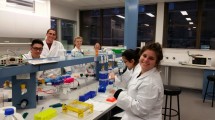 Media contact
02 9850 1055
View by category