Four Macquarie academics honoured as Eureka Prize finalists
24 July 2015
Four Macquarie University academics have been announced as finalists for 16 Australian Museum Eureka Prizes worth a total of $160,000 in prize money.
"The Australian Museum is proud to recognise the best of Australian science through the Eureka Prizes and this year's finalists are extremely impressive," Kim McKay AO, Director and CEO of the Australian Museum said.
"Scientific research and the resulting discoveries and inventions are crucial to the future strength of our economy and our community," she said.
The Australian Museum Eureka Prizes are the country's most comprehensive national science awards, honouring excellence in Research and Innovation, Leadership, Science Communication and Journalism, and School Science. They were first awarded in 1990. This year, new prizes recognise excellence in rural research and international collaboration.
Macquarie's finalists are:
Associate Professor Andrew Barron from the Department of Biological Sciences and The Bee Team (with University of Sydney)
University of New South Wales Eureka Prize for Scientific Research
The Bee Team has identified a mechanism for the mysterious population collapses in bee hives that have impacted honey bees worldwide. Understanding the process of bee colony collapse is now yielding new methods to identify at-risk colonies and techniques to support bee populations for pollination and sustainable food production.
Said Professor Barron: "This is the project I'm most passionate about. I really feel our findings will help improve the situation for honey bees, and it's fantastic to see the work recognised in this way."
Dr Lee Spitler from the Department of Physics and Astronomy
Macquarie University Eureka Prize for Outstanding Early Career Researcher
Dr Lee Spitler uses some of the largest telescopes in the world to study galaxies near the edge of the observable universe. Dr Spitler's research takes advantage of the finite speed of light to look billions of years back in time and discover what the universe was like when it was young.
Said Dr Spitler: "I'm honoured to be a Eureka finalist. I know that this opportunity will help me to share my research and inspire young people to learn about the universe we live in."
Professor David Raftos from the Department of Biological Sciences
Rural Research and Development Corporations Eureka Prize for Rural Innovation
Professor David Raftos works with the Australian oyster industry, finding solutions to increasing problems due to disease and environmental stress. Professor Raftos' research has led to the most comprehensive understanding of disease resistance in oysters worldwide, with his team now implementing that knowledge in an innovative breeding program to produce disease-resistant, environmentally tolerant oysters.
Said Professor Raftos: "I'm thrilled to be a finalist in this year's Eureka Prize for rural innovation because it shows that world class innovative research can have direct tangible outcomes for rural industries. Our work will help to future-proof the Australian oyster industry for years to come."
Adjunct Professor Dayong Jin from the Department of Chemistry & Biomolecular Sciences (also University of Technology and ARC Centre for Nanoscale Biophotonics)
University of New South Wales Eureka Prize for Excellence in Interdisciplinary Scientific Research
Adjunct Professor Jin works in Super Dots. The diverse impact of Super Dots technologies – from non-invasive cancer diagnosis and rapid pathogen detection to invisible coding for authentication of pharmaceuticals, passports and banknotes – is based on advances in diverse fields: material chemistry, optical physics, nanotechnology, biotechnology, computational modelling and instrumentation engineering.
Said Professor Jin: "Research within a single discipline is interesting, but nowadays interdisciplinary research together with our collaborators as a team is both exciting and rewarding. The invention of Super Dots technology is a typical example for this."
The winners of the 16 prizes will be announced in the presence of over 600 science, government, industry and media leaders at the Eureka Prizes Award Dinner at Sydney Town Hall on 26 August 2015.
Filed under: Events Featured Science & nature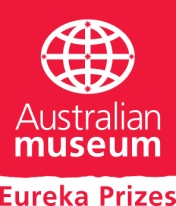 Media contact
02 9850 1055
View by category