Australian Research Council (ARC) Training Centre at Macquarie University Celebrates Official Launch
23 July 2015
Today, researchers, students and industry partners gathered for the official launch of the ARC Training Centre for Molecular Technology in the Food Industry, located at Macquarie University. This Centre provides world-class postgraduate research training for the next generation of scientists who will shape the future of food production in Australia.
"At the Centre, we are investigating how we can use high-end molecular analysis technologies to improve food and food production so that we can develop new food sources and protect existing ones in the future," said Professor Paul Haynes, director of the Centre.
Industry partner organisations associated with the centre include Gratuk Technologies Pty. Ltd., Agritechnology Pty Ltd., the NSW Department of Primary Industries, and Grain Growers Australia.
Research currently being conducted at the Centre includes:
evaluating the use of nutraceuticals from sugar cane to potentially treat metabolic syndrome, diabetes and gastro-intestinal disorders in both humans and animals;
developing technology that can be used to trace grain through the production chain;
developing molecular markers for use in selectively breeding oysters to enhance disease resistance;
and the development of sustainable technologies for using low cost microorganisms to produce high nutritional quality carbohydrates, proteins and other nutrients.
"The technology used within this new ARC Training Centre will play a crucial role in enhancing productivity, processing and the development of new products to meet increasing demand for high-quality food," said ARC CEO Professor Aidan Byrne.
In addition to those research projects, the Centre is also focused on high-level training, and will produce at least 10 industry-ready PhD graduates.
The Centre received $2.1 million of funding from the Australian Government through the Australian Research Council Industrial Transformation Research Program.
Filed under: Campus news Events Featured Research Science & nature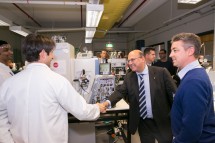 Media contact
02 9850 1055
View by category