Young Australian scientists recognised for work in disaster resilience
22 May 2015
Three exceptional young scientists have been recognised for their work in improving disaster resilience in the Asia-Pacific region. Dr Katharine Haynes, a Macquarie University senior social scientist from Risk Frontiers, was named as Australia's nominee for the $25,000 ASPIRE Prize.
Parliamentary Secretary to the Minister for Industry and Science, Karen Andrews, today congratulated the finalists for Australia's nomination to the 2015 APEC Science Prize for Innovation, Research and Education (ASPIRE).
This year's prize focuses on disaster risk reduction and is open to researchers working in sustainable development, disaster management, urban planning and engineering, amongst other areas."It is vital to build the resilience of communities against natural disasters like cyclones that frequently occur in the Asia-Pacific region," said Mrs Andrews."These young scientists make a vital contribution to disaster resilience.
Their work will help ensure the region's economic prosperity can continue to grow, even in the wake of these events."This is the first year Australia has run a national competition to select a nominee for the APEC-wide prize. The winner will be announced at a ceremony in the Philippines in August.
Dr Haynes was recognised for her work in community and youth-based disaster risk reduction and communication and for using science to improve policies and organisational procedures.
Her research has spanned the full gamut of natural disasters, including bushfires, heatwaves, cyclones, floods, tsunamis and volcanic eruptions. She has also collaborated with academics and emergency management practitioners from other APEC economies including Indonesia, Japan, New Zealand, the Philippines and the US.
Two runners-up, CSIRO senior research scientist Dr Jaclyn Brown and University of Newcastle lecturer Dr Hannah Power, were recognised for their scientific excellence and commitment to improving disaster resilience.
Presenting the awards on behalf of Minister Macfarlane, Parliamentary Secretary Karen Andrews said she was delighted that all three finalists were women.
"Researchers make a vital contribution to our communities and the economy, but less than 20 per cent of senior scientists at our universities and research institutes are women. Prizes like this showcase the fantastic work of our female scientists and encourage more young women to pursue a career in STEM," said Mrs Andrews.
"These awards show that science can provide solutions to real-world problems and cooperation across national boundaries can help to protect communities."
Since 2011, the annual ASPIRE Prize has recognised scientists under the age of 40 who are working in APEC economies and who have demonstrated a commitment to excellence in scientific research and cooperation with scientists across other APEC economies.
"As we become aware of disasters in our region, it's the innovative work of these early-career scientists that will help us to adapt and deal with these risks in the future," said Professor Andrew Holmes, President of the Australian Academy of Science which administers the award with support from the Department of Industry and Science.
Filed under: Research Science & nature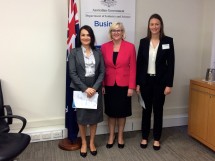 Media contact
02 9850 1055
View by category