Battle of Gallipoli centenary honoured in art exhibition
1 April 2015
To commemorate the centenary of the Battle of Gallipoli, Macquarie University's Art Gallery will launch an exhibition of artworks to honour and capture the spirit of the soldiers who fought at Gallipoli Cove during World War One.
The exhibition 'Contemporary Gallipoli' includes an array of new works created by both emerging and established artists from Canakkale, near the Gallipoli Peninsula, Turkey, and Australia, whose work unites to take the viewer on an experiential journey of remembrance, and a search for meaning beyond myth and memory.
Featuring concepts of friendship and healing, the works comprise music, painting, drawing, printmaking, hand-built ceramic, sculpture, textile, mixed media installation, Artist books, wearables, photomedia and digital animation.
Artists featured in the exhibition include Ros Auld, Cenk Beyhan, Meredith Brice, Stephen Copland, Mark Davis, Ihsan  Doğrusöz, Kate Downhill, Dianne Jones, Burt Muller, Susan O'Doherty, Toby Roberts and Chris Sainsbury. The exhibition was curated by Meredith Brice, who said: "The artists present new and unique perceptions towards this fractured period in world history."
Contemporary Gallipoli will be officially launched on Wednesday 8 April 2015 at 6pm with the Centenary Composition Three Gallipoli Sensations, by Australian composer Dr Chris Sainsbury. It is a piece featuring bass clarinet, bassoon and French horn, performed live at the Gallery by a trio of musicians from The Royal Australian Navy Band Sydney.
Contemporary Gallipoli
2 April – 10 June 2015
Macquarie University Art Gallery (www.artgallery.mq.edu.au)
Building E11A Macquarie University, North Ryde NSW 2109
Opening hours: Monday – Friday 10am-5pm; select Saturdays
Admission is free to all Public Events however bookings are essential please register: (02) 9850 7437
Public Events
A soundtrack to the exhibition in concert with selected works will be presented by Toby Roberts, Creative Director, Stonehurst Studios, live in the Gallery space in a one-off Music to Art performance on Thursday, 21 May 1pm-2pm.
An artist talk and art workshop for students will be facilitated by Australian visual artist Stephen Copland [www.stephencopland.com] in conjunction with the exhibition on Wednesday, 29 April 9.30am – 11.30am.
Education program
Contemporary Gallipoli 2015 Modern History and Visual Art Education Resource sheets, designed for secondary students, will be available at the Gallery for the duration of the exhibition.
Filed under: Faculty of Arts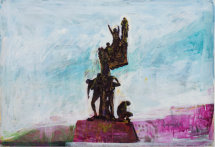 Media contact
+ 61 2 9850 4331
View by category