Olympic biathlete and GWS star to host Sport Scholars Program Launch
13 March 2015
On Wednesday 18 March Macquarie University will see over 100 of its elite athletes come together for the 2015 Sport Scholarship Program Launch, hosted by its 2014 Female and Male Sport Athletes of the Year; Lucy Glanville (Biathlon) and Dylan Shiel (AFL).
The celebratory evening event will welcome the 2015 Sport Scholars and will be held in the Poolside Studio at Macquarie University Sport and Aquatic Centre.
Formerly known as the Sport Scholar's Induction, this year's Sport Scholarship Program Launch will be another annual evening of recognition, praise and celebration, congratulating Category one and two Sport Scholars on their successes in front of their peers, guests and University VIP's.
The Sport Scholarship accolade is a proactive program demonstrating Macquarie University's support for its elite student athletes in achieving both their sporting and academic goals. Over 140 Macquarie University students have been granted Sport Scholarships in 2015, a proud achievement for Macquarie University students and all associates.
Commencing at 18:45 with a cocktail reception, all Sport Scholars and guests will be introduced by Lucy and Dylan, specially elected to co-host the event together.
Lucy is in her 3rd year of study towards a Bachelor of Arts at Macquarie University. Through her sport achievements, Lucy is Australia's number 1 ranked female biathlete and is a current member of the Australian Biathlon team, the Australian Junior Cross Country team and the Australian National Cross Country squad. In February 2014 Lucy proudly represented Australia at the Sochi Winter Olympic Games in the 7.5km sprint and 15km individual event, securing her place in sporting history as only the third female Australian to compete in the biathlon at the Olympic Games since 1998.

Dylan also had a successful 2014, emerging as a key member of the Greater Western Sydney (GWS) Giants, playing 21 games and averaging just under 20 possessions a contest. Dylan finished the year ninth place in the Sheedy Medal, awarded GWS Best and Fairest, and won the GWS Goal of the Year.
Macquarie University Sport and Aquatic Centre looks forward to the outcome of the evening and seeing what the year ahead holds for Macquarie University Sport Scholars.
Filed under: Sport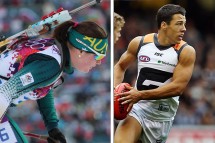 Media contact
02 9850 1055
View by category