Donation kickstarts new prize for Chinese Studies
11 March 2015
Macquarie University has welcomed a $50,000 gift from Mr and Mrs Albert H.G. Li, to support a new annual prize for Chinese Studies and ongoing research in ancient Chinese culture and philosophy.
"I feel privileged to have the opportunity to make a small contribution to the promotion and understanding of ancient Chinese culture, which is still very influential in China and the rest of the Asian region in the global context of the twenty first century," said Mr Li.
Mr Li, President of a Chinese audiovisual company, first proposed the donation after he heard about Macquarie's research and teaching of Chinese Studies from the Honorable Dr Helen Sham Ho.
As an alumna, former University Council member and Macquarie University Foundation Patron, Dr Sham Ho attended an international symposium on campus last December, which explored the historical significance of the discovery of ancient Chinese texts.
"I am delighted to see that our conference made such an impact on those who attended," said Vice-Chancellor, Professor S Bruce Dowton. "We are very pleased to receive this encouragement to continue on with our pioneering work and to further our international collaboration with Chinese scholars."
Mr and Mrs Li visited campus on 6 March to present the gift to the Vice-Chancellor, and met with Deputy Vice-Chancellor (Corporate Engagement and Advancement) Professor David Wilkinson, Deputy Vice-Chancellor (International) Professor Jim Lee, Dr Helen Sham-Ho, Ms Hedda Paisley, Associate Director of Development, Asia, and Dr Shirley Chan, Head of Chinese Studies in the Department of International Studies. Consul Liu Jianbo and Vice Consul Liu Wenwu from the Consulate General of the People's Republic of China (PRC) in Sydney also attended.
Deputy Consul General of PRC Tong Xuejun remarked, "Teaching and research plays an important role in disseminating knowledge and cultural understanding between China and Australia. I am very glad to see this donation from the Chinese community supporting this important part of activities at Macquarie University."
"The donation marks a milestone for Chinese Studies at Macquarie and I thank everyone, particularly Mr Li and Dr Sham Ho for their support," said Dr Chan.
Filed under: Alumni Campus news Faculty of Arts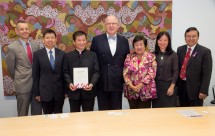 Media contact
02 9850 1055
View by category