Australia Day honours for Macquarie professors
26 January 2015
Three of Macquarie University's most accomplished professors have today received Australia Day honours recognising their contribution to education and to their disciplines.
Emeritus Professor Farhat Yusuf, Professor Rosalind Croucher and Professor John Croucher all received Order of Australia (AM) awards, and are warmly congratulated by Macquarie University and its community.
Professor John Croucher AM – For significant service to mathematical science in the field of statistics, as an academic, author and mentor, and to professional organisations.
John Croucher has been a Professor of Management within the Macquarie Graduate School of Management since 2004, and before that was Professor of Statistics (1998-2003) and Associate Professor of Statistics (1992-1997) at Macquarie University. He was also one of Macquarie's first students, gaining a Bachelor's degree in statistics and an honours degree in mathematics in the first years of the University.
Croucher received his first PhD from the University of Minnesota; his second – in modern history – from Macquarie University, and a third in capital markets from the University of Technology, Sydney.
In 2009, Croucher voluntarily established a community outreach program for Indigenous students in Papua New Guinea, where he designed and lectured in a creative pioneer MBA degree. For his achievements, John was made a Visiting Professor and awarded an honorary PhD for his 'outstanding contribution to the development of humanity'.
Croucher is an internationally acclaimed author, with 27 books, 130 research papers and over 1000 newspaper columns to his credit. For seven years he was a television presenter on rugby league telecasts while his extensive media involvement includes his extremely popular column Number Crunch that appeared in both The Sydney Morning Herald and The Age for 12 years, being read by up to 1.7 million people each week.
His many awards include Australia's highest teaching honour – the Prime Minister's Award for Outstanding University Teacher of the Year, which he received in 2013.
Professor Rosalind Croucher AM – For significant service to the law as an academic, to legal reform and education, to professional development, and to the arts.
Ros Croucher was Dean of Law at Macquarie University between 1999 and 2006. Since that time she has been on leave from Macquarie whilst she serves the Australian Law Reform Commission, first as full-time Commissioner (2007-2009) then as President (2009 – current).
Croucher has been Commissioner-in- charge of eight law reform inquiries of significant consequence to the Australian community and legal system, covering a wide spectrum of complex fields including Client Legal Privilege, Secrecy Laws, and Family Violence. She has lectured and published extensively, principally in the fields of equity, trusts, property, inheritance and legal history. She has written or edited nine books, and authored over 100 publications including book chapters, encyclopaedia entries, journal articles, case notes and conference papers.
She was made a Foundation Fellow of the Australian Academy of Law in 2007, and is an Honorary Fellow of the Australian College of Legal Medicine. She received honorary life membership of the Women Lawyers' Association of NSW in 2013.
Emeritus Professor Farhat Yusuf AM – For significant service to tertiary education as a specialist demographer, and to professional organisations in Australia and overseas.
Farhat Yusuf has been a member of academic staff at Macquarie University since 1970, and an Emeritus Professor of the Faculty of Business and Economics since 2011.
He has been an Honorary Professor at the Menzies Centre for Health Policy at the University of Sydney, since 2010, and was Chair of the International Scientific Panel on Business Demography, International Union for the Scientific Study of Population, between 2006 and 2009.
He served as Chair of the Research Committee on Sociology of Population at the International Sociological Association between 1999 and 2002, and was National President of the Australian Population Association between 1984 and 1986.
Yusuf has been a consultant to a range of organisations including: the World Health Organisation International Agency for Research on Cancer; The Arab League; the US National Academy of Science, and the United Nations Population Fund.
Other members of the Macquarie community to receive Australia Day honours include Adjunct Professor Jim Patrick of Cochlear Ltd, who received the Order of Australia, and alumni Adrian Lipscomb OAM and David Everett OAM.
Filed under: Alumni Campus news Law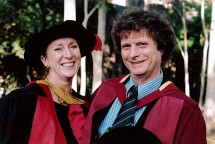 Media contact
02 9850 1055
View by category