Macquarie University strengthens ties with India
23 January 2015
Visiting representatives from Macquarie University (based in Sydney, Australia) have recently launched $1 million in scholarships for Indian students and signed agreements with local education, research and business groups.
Deputy Vice-Chancellor, International, Professor Jim Lee visited India from 10-16 January with a faculty delegation as part of Australia Business Week in India (ABWI).  He was accompanied by Professor Mike Jones (Associate Dean International, Faculty of Human Sciences), Professor Iain Collings (Head of Department of Engineering, Faculty of Science and Engineering), Dr Andrew McKenna (Executive Director, Big History Institute) and Mr Abizer Merchant (Regional Director, South Asia).
Deputy Vice-Chancellor, International, Professor Jim Lee said "Indian Institutions offer industry oriented and innovative programmes with a track record of excellent career outcomes for their students. Macquarie University prides itself on its world-class facilities, its internationalised curriculum and research achievements particularly in science and engineering. Students, teaching and research staff in India and Australia will benefit from this engagement.

AUD 1 million scholarships for Indian students
Macquarie University announced a new scholarship program, valued at $1 million, for Indian students commencing in 2015.  The Vice-Chancellor's International Scholarship, valued up to $10,000, will assist talented Indian students to pursue coursework degree programs by offsetting almost a third of the annual fees for most courses at Macquarie University.  Fifty scholarships will be available in 2015.
Under the South Asia Scholarships scheme Macquarie University will provide an 'early acceptance discount' of $6,000 towards the total tuition of a student's program.  One hundred South Asia Scholarships will be available from July 2015 to coursework students who accept their offer by a set deadline.
This scholarship funding is in addition to existing $11 million that Macquarie University provides through a scholarship program to Indian PhD candidates.  There are currently 55 students undertaking PhDs at Macquarie University, in science, engineering, cognitive sciences, economics and law.
Deputy Vice-Chancellor, International, Professor Jim Lee noted that the Vice-Chancellor's International Scholarship is amongst the most generous in Australia.
Macquarie University signs MOUs with VIT University and BITS
During the visit Macquarie University signed memorandums of understanding with VIT University and the Birla Institute of Technology & Science (BITS) – two of India's leading engineering institutions.
The MOUs will support a range of activities that will strengthen collaboration between the institutions, including a scholarship program, student and staff exchange, joint research collaboration and co-supervision of PhD students.
Professor Iain Collings, Head of the Department of Engineering at Macquarie University said "the agreements will provide the next generation of Australian and Indian researchers and innovators with access to outstanding research and training opportunities in both countries".
Launch of 'Big History' in India
Executive Director of the Big History Institute, Dr Andrew McKenna, met with school principals in Mumbai to introduce the Big History Project and explore opportunities for Indian high school students to participate in this innovative approach to studying history.
Big History is an interdisciplinary approach to understanding history.  It was initially developed by Macquarie's distinguished Professor David Christian for university students. In 2009, Professor Christian and Microsoft founder Bill Gates collaborated to form the Big History Project, a philanthropic initiative to make Big History available in school classrooms and online, which has since been rolled out in almost 200 schools in the US, 100 schools in Australia and is being piloted in schools in Korea, the Netherlands and Scotland.
Macquarie University
Established in Sydney in 1964, Macquarie University is a progressive voice among universities in Australia and the Asia Pacific. It was created during a time of extraordinary social transformation to be a different kind of university: it was, and will always be, a bold experiment in higher education. True to its founders' vision, the University has challenged the conventional thinking of academia through innovations in its campus set-up, curricula, interdisciplinary research and engagement with industry and the wider community.
Macquarie's approach has paid off. Eighty-five per cent of its research activity is rated through the 'Excellence in Research for Australia' initiative at world standard or higher, and it has received a rating of 5 stars across all categories measured by QS. More importantly, the University has helped to form generations of individuals who are audacious and responsible leaders in their field and active members of their communities.
Ever restless, as it moves towards its next fifty years, Macquarie has embarked on a bold program of renewal and expansion under the leadership of Vice-Chancellor and President Professor S Bruce Dowton. A fifth faculty, Medicine and Health Sciences, has just been established alongside new research institutes, and new facilities are slated to open in the next few years.
The Macquarie University campus is connected to the Sydney CBD by fast and efficient transport – 20 minutes by car and 30 minutes by train. Teaching is also delivered through the Macquarie City Campus, and in Melbourne, Singapore, Hong Kong and Beijing.
Filed under: Faculty of Arts Science & nature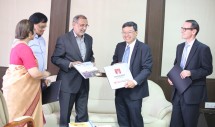 Media contact
02 9850 1055
View by category