Classrooms of many cultures: new curriculum to prepare students for international placements
18 December 2014
As an Australian leader in international work-integrated and community-based service learning opportunities, Macquarie University will develop a new curriculum for its outbound international placement students, working with its international partners.
In this significant new project, with Office of Learning and Teaching funding announced by the Hon Christopher Pyne MP, the initiative will see new curriculum resources embedded into the University's ambitious PACE (Professional and Community Engagement) program.
This project is led by Associate Professor Greg Downey in Anthropology and a unique cross faculty PACE team, including senior and early career researchers: Associate Professor Kate Lloyd, Dr Rebecca Bilous, Dr Michaela Baker, Dr Felicity Rawlings-Sanaei, Laura Hammersley and Eryn Coffey.
Over 160 students take part in PACE International programs annually. Macquarie's PACE program offers thorough pre-departure training in conjunction with Australian Volunteers International, with a focus on preparing students for health, safety and cross-cultural communication challenges.
"There's a great deal more we can prepare our students for in the areas of social justice, political economy, poverty and underdevelopment" says Downey, "so when they arrive in-country, they should be able to bypass some of the most easy-to-anticipate issues."
The project will model intercultural collaboration and inclusion of diverse intercultural perspectives in the curriculum design. "We will work with our PACE partners in Malaysia, India and the Philippines to include partner perspectives in pre-departure, in-country and re-entry educational programming" says Lloyd. "The co-creation process will be documented to provide methods for curriculum adopters who wish to tailor the materials to their own international partnerships."
Feedback from students has indicated that a more in-depth understanding of the complexities of the contexts they will be working in would be valuable in setting expectations and improving their ability to contribute to the work of partners. International partners who host PACE students have also indicated that they are eager to collaborate in the preparation of outbound students, before they embark on their placements.
Three well-established PACE partner organisations (Restless Development [India], Bahay Tulyan [Philippines], PACOS Trust [Malaysia]) have already signed up to be part of the project team, with others to come on board shortly, and a workshop of approximately 12 partners to be held in mid-2015.
"Extending the partner input into the classroom will not only internationalise the classroom but will enable the preparation to be more nuanced and appropriate to the needs of our valued PACE partners," says PACE Academic and Programs Director, Lindie Clark. "Importantly, it will help to make the short time that our students spend with them more productive, as they'll be able to move more quickly from orientation to operations."
Filed under: Faculty of Arts Research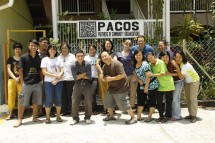 Media contact
02 9850 1055
View by category