FIRST® Robotics Competition launches Australia Regional event with Macquarie University
3 December 2014
FIRST® (For Inspiration and Recognition of Science and Technology), an international not-for-profit K-12 organisation founded by inventor Dean Kamen to inspire young people's interest and participation in science and technology, has announced the FIRST® Robotics Competition (FRC®) Australia Regional Event, through 2018, in collaboration with Macquarie University. For the first time, Australian FRC teams will be able to compete at a regional level without leaving the country.
The inaugural event will take place March 11-14, 2015 at the Sydney Olympic Sports Centre. Thirty-seven FIRST Robotics Competition teams have signed up so far from Australia, Brazil, China and Hawaii.
"This is an exciting step for FIRST. A FIRST Robotics Competition Regional Event on the other side of the globe helps support our growing presence not only in Australia but also in Asia and beyond. We are grateful for the leadership role Macquarie University has taken in spreading the mission of FIRST and look forward to watching our Progression of Programs grow in the region," said FIRST President Donald E. Bossi.
Located in Sydney, Macquarie University is renowned for its interdisciplinary research and teaching, highly skilled graduates and first-class facilities. In 2010, it founded the first FIRST Robotics Competition team in Australia: Team 3132, "The Thunder Down Under." To further promote the mission of FIRST, and to address the STEM (science, technology, engineering, and math) skills shortage in Australia, the University then organized FIRST Australia. Today, about two dozen FRC teams operate there.
"The FIRST program has been a great success in the United States, and we're excited to see that Australian students are likewise being drawn to its program model of attracting, challenging and supporting students to engage with science and technology," said Macquarie University Vice-Chancellor, Professor S. Bruce Dowton. "Already we have seen students involved in local and regional FIRST events pursue tertiary education in the science, technology, engineering and mathematics fields, which is a great asset to our workforce that we are more than happy to facilitate."
The Sydney Olympics Sports Centre, home of the 2000 Summer Olympics, is a source of immense national pride – according to Michael Heimlich, professor of engineering at Macquarie University and FIRST Australia Volunteer.
"This venue was chosen to emphasize that FIRST is a Sport for the Mind™ and that our student athletes deserve the same recognition and accolades as any Olympic-class athletes," he said.
Filed under: Events Featured Science & nature Technology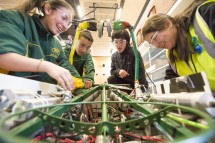 Media contact
02 9850 1055
View by category