Macquarie University Sport Scholars break records at National Archery Championships
2 December 2014
Macquarie University Sport Scholars Tayla King and Kathy Kuestler recently competed at the 2014 National Archery Championships, with Tayla winning gold in clout and making a new state, and Australian record in both the Single and Double Clout Divisions.
Kathy Kuestler also achieved some impressive results at the Championships, being named 'Second Best All-rounder' archer after consistently performing well over the three-day event. She placed third in the short course event, fourth in the target event, and fifth in the field event.
Looking forward, Tayla is preparing for 2015 by training with her head coach at their National Training Camp, and Kathy preparing to compete at the Australian National Matchplay Series held monthly from November 2014 to March 2015 in each state.
"Over the university holidays I will be ramping up my training to six hours a day, seven days a week. I also aim to practice in all weather conditions (heat, rain and wind) to ensure that I am fully prepared," said Kathy.
In addition to their sporting commitments, Tayla is studying a Bachelor of Early Childhood (Birth-12 years) and Kathy is a fourth year Bachelor of Arts and Education student.  Kathy is also an active member of the Japanese Association at Macquarie (JAM), the Chess Club, and the Computing Society and is looking forward to the next MAQLAN (a gaming event at Macquarie University).
Tayla would like to remind the Macquarie University community to "keep doing what you love to do, and know you can accomplish your goals if you persevere. There will always be barriers and times of negativity, but just remember to keep the drive and motivation going and the outcomes will be rewarding."  Her motto is "Give everything 100% and remember all the hard work you've done to be where you are."
Filed under: Sport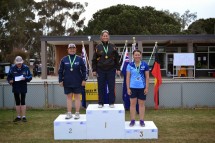 Media contact
02 9850 1055
View by category