Supporting health and fitness for kids at the Macquarie University Sport and Aquatic Centre
27 November 2014
On Sunday 14 December, Macquarie University Sport and Aquatic Centre will host their final Group Fitness event, Super Summertime Sunday, which will introduce their first ever children's Group Fitness program to the Centre, BORN TO MOVE™
BORN TO MOVE™ is a Les Mills program that aims to inspire and motivate new generations through music and movement and help them enjoy the increased self-esteem, wellbeing and health benefits of an active life.
The Macquarie University Sport and Aquatic Centre is only the second fitness facility in Sydney to commence the BORN TO MOVE™ classes which complement the Swimming, Gymnastics and Martial Arts programs already on offer for children.

"We are excited by the opportunity to be a champion of change in our community," said Macquarie University Sport and Aquatic Centre Group Fitness Team Leader, Leisl Klaebe.
"If we can ignite a love of movement in children, we can inspire the next generation to create healthy habits that will last a lifetime."
Members and their friends have the opportunity to bring their kids along to try out the classes for free during Super Summertime Sunday before the full BORN TO MOVE™ Group Fitness timetable commences in February 2015.
Super Sunday also launches the latest Group Fitness routines for the adult classes and will run from 12:00pm – 7:00pm on the same day.
To find out more or to register visit: campuslife.mq.edu.au/group-fitness
About Super Summertime Sunday:       
When: Sunday 14 December 2014
Time: 11:00am – 7:00pm
BORN TO MOVE™ Class Times:
Children aged 6 – 7 years:  11:00am – 11:30am
Children aged 8 – 12 years: 11:30am – 12:00pm 
Location: Macquarie University Sport and Aquatic Centre, Gymnasium Road, North Ryde
Open to: Macquarie University Sport and Aquatic Centre Members and their guests
Price: Free entry
Adult Classes:  BodyPump, RPM, BodyAttack, Hoola Hoop Dance, BodyStep, Zumba, CXWorx, BodyBalance, Schwinn Cycle
To book: healthclub@mq.edu.au or 9850 7636
Filed under: Sport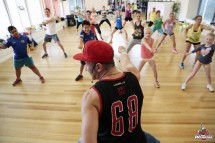 Media contact
02 9850 1055
View by category