Macquarie University Sport Scholar to represent Australia in CycloCross
26 November 2014
Macquarie University Sport Scholar, Lindsay Gorrell, has been selected in her first Australian team to compete at the CycloCross World Championships in Tabor, Czech Republic from 31 January to 1 February 2015.
After a disrupted year of glandular fever, overcoming an injury and completing her Master by Research trial, Lindsay was recommended by Cycling Australia and Mountain Biking Australia to gain a place on the national team.
In addition to all these hurdles and achievements Lindsay defended her NSW State Title by placing first for two consecutive years at the NSW CycloCross Championships on 27 July 2014 at Newcastle Velodrome.
When asked about how the year has challenged her, Ms Gorrell responded
"Life happens, but if you keep your head down and work hard, you will achieve your goals regardless of what is going on around you."
Ms Gorrell and the National CycloCross team will be competing at the Hoogerheide World Cup in the Netherlands on 25 February 2015 prior to the World Championships. It will be another first for Ms Gorrell as this will be her first World Cup race.
Filed under: Sport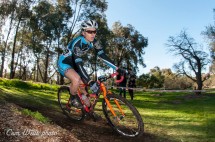 Media contact
02 9850 1055
View by category