More Macquarie University students to study across Indo-Pacific
25 November 2014
The Australian Government yesterday announced that twelve projects supporting Macquarie University students to undertake new learning opportunities in the Indo-Pacific region have been successful in gaining funding under the New Colombo Plan (NCP) Mobility Program.
Approximately 70 Macquarie students will travel to Bangladesh, China, Fiji, Hong Kong, India, Japan, the Philippines, Singapore, and Vanuatu throughout 2015 and 2016 as part of the NCP.   The students will have the opportunity to participate in a range of mobility projects that will deepen their understanding of the region and enhance their employability, including:
–          Internships in the regional offices of one of Australia's largest banks for business/law students;
–          Placements with community legal centres and mentoring opportunities for law students;
–          Early childhood and teaching internships for education students; and
–          Advanced linguistics, language and cultural immersion programs.
The students will follow in the footsteps of the seven Macquarie students who travelled to the Chinese University of Hong Kong earlier this year as part of the pilot phase of the NCP Mobility Program.
One of these pilot phase students, Leesa Chen, said "I don't think there is a better opportunity to learn Asian business than being present in the society itself; Asia being such a high context society it is important that we learn beyond the classroom and consider how culture and history guides international business."
Deputy Vice-Chancellor (International) at Macquarie University, Professor Jim Lee said he was excited about the opportunities for Macquarie students to travel more extensively through the region.
"Macquarie University is already well-known as a truly internationalised university based upon our numbers of international staff, students and research collaborators," he said. "We understand the benefits of being globally connected, and the importance of helping to nurture the global awareness of a generation of young leaders who are eager to engage in the planet's most pressing issues.
"We thank the Australian Government for their support in helping to create more of these wonderful learning opportunities for our best and brightest."
Filed under: Campus news Learning & teaching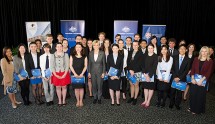 Media contact
02 9850 1055
View by category