Macquarie University academics receive AMP Foundation funding to create a better tomorrow
25 November 2014
Three Macquarie University academics have been awarded AMP Tomorrow Fund grants for their innovative online projects in health law, language learning and memory.
Dr Sonia Allan from Macquarie Law School, Professor Trevor Johnston from the Department of Linguistics, and PhD student Emma Nile from the Department of Cognitive Science were individually recognised as 'Tomorrow Makers' at a gala dinner. They received three of the 47 awards in total, chosen from 5600 applicants.
Deputy Vice-Chancellor (Research) Professor Sakkie Pretorius said their successes are terrific news, and a proud moment for Macquarie University as a whole.
Emma Nile
Emma Nile, who is a member of Macquarie's Collective Cognition Team and affiliated with the ARC Centre of Excellence in Cognition and its Disorders's Memory Program, was awarded $30,000 to further develop, test and roll out her Our Stories program, a reminiscence program for older adults living in care. This work forms part of Emma's PhD in Cognitive Science.
"When visiting my great-grandmother in residential care, I realised that asking about her past lifted her spirits. I read more on the positive impact of reminiscing and developed a program to help elderly people record their lives.
"Our Stories will help older Australians to feel valued and improve their memory, and also enable aged care staff to strengthen bonds with residents. Piloted in 2013, I'm now working to roll it out to 100 seniors a year."
Dr Sonia Allan
Specialising in health and law for nearly two decades, Sonia Allan particularly focuses on biotechnology law, including the ethical and legal issues surrounding assisted reproduction, surrogacy, cloning and human genome research. She also has expertise in public and global health law, and general medical law.
Allan says the $30 000 in funding will go towards research and development of an online resource that provides information to the community about health law, clearly defining the differences across jurisdictions, both nationally and internationally.
"These areas of health have significant public interest, yet there is confusion concerning the law and policy across jurisdictions. This resource will provide a central place where the community can access important information," Allan says.
Professor Trevor Johnston
Born to deaf parents, and with five generations of deafness in his family, Professor Trevor Johnston has been instrumental in researching, teaching, documenting and promoting Auslan. He coined the term Auslan and helped it gain recognition as a community language, and wrote a ground breaking sign language dictionary, which has since moved online. Trevor also created a digital archive of 'real world' Auslan. With AMP's support, he is integrating the dictionary and archive into a single website.
"The benefit will be improved access to language learning resources for deaf children, their teachers, parents and the wider community," he says.
The AMP Tomorrow Fund is an initiative of AMP's philanthropic arm, the AMP Foundation, which has been supporting change to create a better tomorrow for everyone since 1992.
Filed under: Law Science & nature Social sciences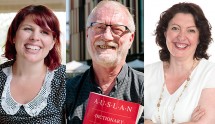 Media contact
02 9850 1055
View by category