Donation kickstarts melanoma research at Macquarie
24 November 2014
As the University expands its cancer genetics research program, a generous donation of $100,000 from the Melanoma Institute Australia has helped to purchase a dedicated flow cytometer for medical research.
Demand for the cell-analysis equipment increased after the appointment of two of Australia's leading melanoma experts, Professor Helen Rizos and Professor Richard Kefford, earlier in 2014.
The duo – who have partnered together in breakthrough research for over 20 years – moved their laboratories from the Westmead Millennium Institute to the Australian School of Advanced Medicine.
"With the MIA headquarters just down the road from Macquarie's campus, Helen and I see very novel and fruitful collaborations here that we were unable to do elsewhere," said Kefford. "It's exciting to be so close to the MIA, with the world's largest melanoma treatment centre and the largest melanoma biospecimens resource too."
When it became clear that the University's existing cytometers would not have the capacity for the new teams, Rizos and Associate Professor Brendan McMorran, a genetics and infectious diseases expert, launched a bid to source another machine. Funding from a Macquarie University Strategic Infrastructure Scheme grant also supported the instrument purchase. The flow cytometer is an important addition to several ASAM research areas, including:
–       Melanoma, led by Rizos and Kefford;
–       Genetics and malaria infection, led by McMorran;
–       Motor neurone disease, led by Professor Gilles Guillemin;
–       Lymphoedema, led by Dr Lisa Sedger
After a long-time association with the MIA, Rizos invited them to assist in the bid.
"We are delighted to have supported the purchase of this initial equipment," says Reg Richardson, MIA chairman. "We are hopeful that further funding will be able to support melanoma research at the University in the future, with a broader affiliation spanning research, education and training as well."
Rizos has been working in the field of melanoma cell biology and oncogenic signalling since 1995. She is a leader in the functional and genetic analyses of melanoma-associated tumour suppressors and oncoproteins.
Kefford has been investigating the molecular genetics of melanoma since 1986. He is a consultant Medical Oncologist, founding member of the International Melanoma Genetics Consortium and plays a major role in the design and conduct of clinical trials in melanoma.
Both Rizos and Kefford have received over $10 million in NHMRC research funding since 2010 and have co-authored over 40 publications.
Filed under: Research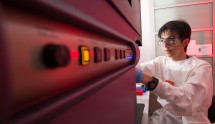 Media contact
02 9850 1055
View by category