Closing the gap between graduate expectations and employers: accounting unit recognised with B/HERT award
24 November 2014
An innovative new unit encouraging students and industry to collaboratively explore the breadth, scope and challenges of the accounting profession has received a national education award.
Macquarie University's Department of Accounting and Corporate Governance ran the unit ACCG315 (Accountants in the Profession) for the first time in 2014.
Their hard work has now been recognised with the 2014 Business/Higher Education Roundtable (B/HERT) award 'Excellence in Accounting Teaching Collaboration'.
With a cohort of over 1600 students, ACCG315 addresses the role of an accounting professional and helps students become familiar with regulatory, cultural and technological issues affecting accountants and their profession. The subject is a core unit for all Bachelor of Commerce – Professional Accounting students.
As part of Macquarie's Professional and Community Engagement (PACE) program, the unit was developed to help improve students' employability by offering them real world preparatory experience.
"The collaboration has a profound impact on the student experience," says Head of Department Professor Philomena Leung. "It gives students real-time, relevant industry-based feedback, placing them at the forefront of their learning. Importantly, it has also seen our top 30 students offered new work experience, mentoring and shadow placements with leading CFOs across Australia."
The Department partnered with diverse professional organisations to deliver presentations throughout the semester, including:
professional accounting bodies (CPA Australia and CIMA – UK),
Big4 accounting firms (KPMG, PWC and Deloitte),
commercial and financial organisations (Cochlear Limited, Commonwealth Bank),
NFP organisations (Whiddon Group),
Public sector (Lane Cove Council), and
small and medium size enterprises (EFS Strategic).
"The unit has also promoted strong collaboration amongst all industry partners and the Department," says Leung. "This has led to other new and innovative initiatives such as a CFO Forum series, which provides dynamic platform for CFOs to network and collaborate for innovative ideas."
The Business/Higher Education Round Table is a not-for-profit organisation that was established in 1990 to strengthen the relationship between business and higher education.
B/HERT Awards were established in 1998 to recognise outstanding achievement in collaboration between business and higher education in the fields of research and development and education and training.
Filed under: Business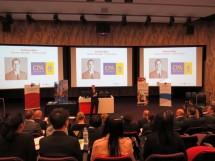 Media contact
02 9850 1055
View by category