MGSM announces major investment into women's management education
21 November 2014
The Macquarie Graduate School of Management (MGSM) has today announced the largest investment by any Australian business school into the postgraduate business education of women.
Powered by a $4 million investment from MGSM, with a matching $4 million from corporate and government partners, the Women in MBA program sets out to overcome the global gender imbalance in MBA programs. The total $8 million investment goes directly to eliminating or reducing the fee women pay to complete MBA study.
"MBA programs are the breeding ground for tomorrow's leaders. They are the finishing school for middle managers gunning for senior leadership positions. They are also the place where the national stock of leadership capital is being developed," said Professor Alex Frino, Dean of MGSM.
"In Australia today, 20,000 students are currently passing through the 65 MBA programmes delivered by Australian universities and other educational institutions, but less than one-third of this pool of aspiring leaders are female."
"To put this into perspective, there are 13,500 men but only 6,500 women enrolled in MBA programs at the moment," he said.
Based on research conducted by MGSM which found that time and cost are the primary barriers for women to MBA study, the first initiative of the Women in MBA program is a scholarship program whereby women are financially supported through the MBA by both MGSM and their employer, or sponsor, who provide a matching percentage contribution to either reduce or eliminate the fees to the women to study an MBA. '
Significantly, as part of the program, the employer or sponsor must also pair their nominated student with a mentor for the duration of the MBA, as well as provide logistical and practical support to help them reach their study goals.
"We went to market with this scholarship program just two weeks ago and the take up has been incredible with almost 25 per cent of the available scholarships claimed by our first six partners," said Professor Frino. "It goes to show the significant interest and demand from women, as well as the commitment from corporate and government organisations to overcome gender inequity and take a leadership role on this issue," he said.
Six foundation partners have come on board to the Women in MBA program and they are: CPA Australia, Echo Entertainment, Johnson&Johnson Family of Companies, Philips, Qantas and the Royal Australian Navy.
"We are committed to be a company where people of all backgrounds can succeed, driving diversity of cultures, talents and perspectives. One priority is increasing the number of upcoming female leaders in the more traditionally male-dominated areas to reflect the rising share of female graduates, breadwinners and decision-makers," said Kevin Barrow, Managing Director of Philips.
"Johnson & Johnson Family of Companies are absolutely delighted to partner with MGSM on this program which is the first of its kind in Australia and reflects the critical need to invest in women's education, particularly those women who would not otherwise be able to complete an MBA, as well as their post-MBA leadership pathways," said Gavin Fox-Smith, Managing Director, Johnson & Johnson Medical.
"CPA Australia is proud to be a foundation partner of MGSM's innovative program aimed at addressing gender imbalance issues and empowering women in business and senior leadership roles around the world" said Alex
Malley, Chief Executive of CPA Australia.
"Qantas is pleased to partner with MGSM to invest in this outstanding education opportunity for the current and future female leaders across our business," said Qantas Group Executive Human Resources and Office of the CEO Jon Scriven.
Professor Alex Frino joined with Senator Michaelia Cash, Minister Assisting the Prime Minister on Women, Helen Conway, Director of Workplace Gender Equality Agency and Kim McKay, CEO and Director of the Australian Museum, to launch the Women in MBA program today (Friday 21 November) at the Museum of Contemporary Art, Sydney.
"Our Women in MBA partnerships program is a pilot which we hope other universities can adopt in their own Schools – this is the only way we will be able to make a real, long lasting and meaningful impact on the numbers of women completing MBAs and advancing into leadership roles down the track," Professor Frino said.
The scholarship program is just the first in a suite of initiatives to support women to commence and complete MBA study. More initiatives are currently being examined, including support for women with children and greater flexibility in terms of subject choice and delivery modes.
Filed under: Business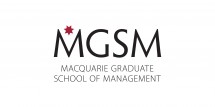 Media contact
02 9850 1055
View by category