Professor Mark Westoby named 2014 NSW Scientist of the Year
20 October 2014
One of the world's most influential ecologists, Professor Mark Westoby, has been named Scientist of the Year at the 2014 NSW Science and Engineering Awards.
An ARC Laureate Fellow, Distinguished Professor of Biology and leader of the Genes to Geoscience Research Centre, Westoby is a pioneer of 'trait-based ecology'.
His trait-based approach to ecological strategies uses the features of very large numbers of species across wide geographic ranges to categorise species into functional types, and explain patterns of species occurrence and abundance.
Westoby first joined Macquarie in 1975 and has continued a distinguished career, including:
the development of a state-and-transition approach to managing ecosystem change, now mandatory throughout rangelands in the USA
the leadership of  large-scale ecological dataset compilations, whereby patterns that were previously local and from smaller-scale studies have been quantified and consistency-tested at world scale.
2003 Gold Medal from Ecological Society of Australia for research and postgraduate leadership
2005 Clarke Medal from Royal Society of NSW for distinguished research in the natural sciences
2009 elected to fellowship of Australian Academy of Science
2010 awarded Australian Laureate Fellowship
Over the past ten years Westoby has led the Genes to Geoscience Research Centre, developing a strong fusion between genomics, ecology, palaeobiology and earth systems.
The Patron of the Awards, NSW Governor His Excellency General The Honourable David Hurley AC DSC (Ret'd), presented Professor Westoby his trophy during a gala ceremony at Government House. Professor Westoby was also awarded $55,000 in prize money.
Chief Scientist & Engineer, Professor Mary O'Kane, said the Awards are a chance to recognise and reward those who are making tremendous contributions to science, engineering and research in NSW.
"These talented individuals – through their innovation, collaboration, resourcefulness and impact – are contributing to major advances in our well-being and economy," Professor O'Kane said.
"They are exemplars of a State R&D sector that is known for posing hard problems and finding innovative ways to crack them.
"We all should feel inspired by their incredible accomplishments," she said.
Filed under: Research Science & nature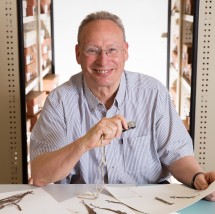 Media contact
0417 590 601
View by category