Macquarie University plays host to national sporting event
13 October 2014
Recently Macquarie University was one of the host venues for the annual Australian University Games. Throughout the course of the week, games of table tennis, touch football and squash were played at the Macquarie University Sport Fields and the Macquarie University Sport and Aquatic Centre.
"Hosting some of the Sports at Macquarie allowed a fantastic opportunity for students, staff, friends and family members to get behind the competitors and see what the AUG is all about!" said Unisport Manager – Sport and Recreation Kate Glassop.
"It was incredibly exciting to see the Macquarie University Mens Squash team secure their gold medal win on home turf with a huge crowd of supporters behind them."
Macquarie University's very own squash team were heralded champions of the Games – undefeated from game one to gold medal. There was a huge turnout of Macquarie University staff, students, and local community to watch the athletes compete on home ground.
Sport Scholar Angela Smith was another one to watch. Winning medals in cycling for all the competitions she entered, Smith has set the bar very high for next year. She won silver in road race and gold in the criterium and time trials.
Macquarie University also won gold medals in women's water polo against UNSW, and in fencing – men's novice foil.
Women's water polo coach John Johnsen was confident of the win from the first day. "We've got some stand out players, but all the girls are excellent," said Johnsen.
Women's futsal was another amazing team. Coached by the current Australian men's futsal coach, Rob Varela, these women put in a stellar effort. They made it to the bronze finals and had a close 5-4 win against Griffith University.
Macquarie University finished 8th overall, out of 41 tertiary institutions nationwide, with two gold, two silver and four bronze medal pennants, plus an additional 23 medals won in the individual competitions.
Filed under: Campus news Sport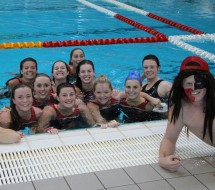 Media contact
02 9850 1055
View by category