Young ambassadors tackle global economics and climate change on the world stage
26 September 2014
Macquarie University Merit scholars Jack Feeney, 20, and Sophie Whitehead, 21, will each embark on the opportunity of a lifetime in the next few months, as they participate in major political events in the United States of America and Peru respectively.
Through its Merit Scholar Program, Macquarie has partnered with Global Voices, a not-for-profit organisation providing opportunities for young Australians to engage with international policy both at home and abroad.
The partnership allows two of Macquarie's Merit Scholars each year to attend a diplomatic event such as World Bank and IMF meetings, UN climate talks, and OECD and World Trade Organization forums.
"The Merit Scholars program offers a rich diversity of learning opportunities well beyond the classroom," says Vice-Chancellor Professor S. Bruce Dowton.
"Our partnership with Global Voices will provide transformative learning experiences for Jack and Sophie, and many other students in the future."
In October, Jack, a Bachelor of Applied Finance and Bachelor of Economics student, will attend the World Bank and International Monetary Fund Annual Meetings in Washington, D.C.
"I'm really looking forward to being amongst world leaders and hearing their perspectives on global issues," says Jack. "Attending this forum will allow me to put my skills and knowledge of economics into practice."
Sophie, a Bachelor of Science and a Bachelor of Laws student, will attend the United Nations Framework Convention on Climate Change's 20th Conference of the Parties in Peru in November.
"Climate change is an enormous issue for my generation, with our future quality of life dependent on urgent and universal action," says Sophie. "I'm really excited for this once in a lifetime opportunity to witness the UN's response to this global challenge."
Before their international experiences, Jack and Sophie also participated in preparatory activities in Canberra, where they met with the Prime Minister, Governor General and more. Both students will also complete a Research Fellowship with Global Voices as part of their experience. This will include the production of a paper on an aspect of the summit's agenda to be published by Global Voices.
The Macquarie Merit Scholars Program for high achieving students includes exclusive opportunities to take part in professional workshops, social and networking events, academic mentoring, undergraduate research scholarships and international travel scholarships. The international travel scholarships provide full funding for Merit Scholar students like Jack and Sophie to attend overseas conferences, take part in international internships and other relevant development programs.
Filed under: Business Law Learning & teaching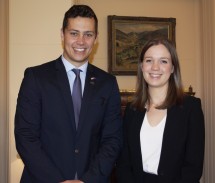 Media contact
02 9850 1055
View by category