Macquarie University Sport Scholar Michael Wells takes on a full time gig with the National Sevens Squad
22 September 2014
Macquarie University North Harbour Rays Head Coach Geoff Townsend has wished outstanding young backrower Michael Wells all the best as he embarks on a full time gig with the National Sevens Squad.
Wells' first day "on the job" at their training base at Narrabeen on Sydney's northern beaches was on Friday 19 September, and as Townsend has emphasised, the Buildcorp National Rugby Championship is the place where the stars of tomorrow are unearthed.
Since then Wells has already been involved in two tournaments; the FORU Tournament in Noosa where the Sevens Team came fourth, and the first leg of the International Rugby Board (IRB) Series in the Gold Coast where they finished in seventh position.
"Obviously we'd love to have 'Wellsy' as a Ray for the rest of our season, but he's getting the chance to train full time in a professional environment with a spot in a team for the Rio Olympics on the horizon," Townsend said.
"You can't argue with that – it justifies what the competition and the Rays are all about. We're all very happy for him and I am sure that he will do well."
An excited Wells said the past few days had been a bit of whirlwind.
"I was contacted last week about joining the squad, so it has all happened very quickly," he said.
"Once I spoke with Geraint [John, National Sevens Coach], listened to his plans for the Sevens program and how I will fit into the squad, my mind was made up.
"In the short time I have been with them, the Rays have been fantastic to me and I am grateful to them for giving me the platform to showcase my game. I wish them the very best for the rest of the Buildcorp National Rugby Championship.
"Since I left school I have been keen to do the Rugby thing full time, and this has presented itself. I'm happy about that and happy that the Rays have helped me get there."
There'll be a few familiar faces at Narrabeen when Wells turns up for his first day on the job. Northern Suburbs teammates Cameron Clark, Sam Myers, Peter Schuster and Jesse Parahi are all part of the 20-man national squad.
National sevens Coach Gerraint Jones said the recruitment of Wells was part of a push to get some size and breakdown skills into the squad.
"Michael is a gifted forward who will bring us that added toughness at the breakdown. He has a wonderful appetite to learn about Sevens and improve his technical skills," Jones said.
"I am aware that Michael impressed during last season's Shute Shield, and he has clearly stepped up to the mark at a higher level in the National Rugby Championship while playing for the Rays.
"It is fantastic to see a player come through Australian Rugby's Development Pathway – playing for Australian Schoolboys, the Under 20s, National Rugby Championship and now being a part of a national all-age squad.
"The forwards is an area where I feel we lack of bit of depth at the moment. With Michael joining us at our centralised base at the Academy of Sport in Sydney, I feel we have taken a step towards addressing this."
Wells is in his second year of studying Bachelor of Commerce with Bachelor of Laws and achieved a GPA score of 3.3 in Session 1 2014 at Macquarie University. After graduating from St Ignatius College Riverview, he gained elite athlete bonus points entry and a Sport Scholarship at Macquarie with his Australian Under 20 representation in 2013.
With the future looking bright for Wells, the Sport Scholar understands that for now it's important to focus on perfecting his game skills.
"Currently, I'm just focusing on understanding the little nuances of the game of Sevens and also trying to get a spot in the squad for the upcoming IRB Series Tournaments in Dubai and South Africa in December. We've got a really great squad with talented players, so it's always competitive in the selection process.
"I haven't thought too much into the future, but obviously with Sevens now being in the Olympics, Rio 2016 would be a really great opportunity."
He is one of many elite athletes who are on sport scholarship at Macquarie University, including Damien Fitzpatrick (Lyon, France), Joshua Anderson, Lachlan Cannell, Hugh Roach, Harrison Orr, Mitchell Short and Michael Snowden. Recently retired Wallaby Patrick McCabe was also on scholarship for a number of years whilst studying his Law degree.
As a founding member of Australia's Elite Athlete Friendly University Network, Macquarie offers financial and academic liaison support to over 120 elite student athletes in a wide variety of sports.
Filed under: Featured Sport Uncategorized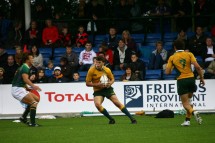 Media contact
02 9850 1055
View by category