Linguistics PhD Candidate Alexandra Grey to attend 2014 Australia-China Youth Dialogue
19 September 2014
Faculty of Human Science PhD candidate Alexandra Grey has been selected from 200 young Australian professionals, entrepreneurs, and students, to attend the 2014 Australia-China Youth Dialogue, a youth-driven bilateral conference to take place this November in Beijing.
After being shortlisted following her written application in July, and finally selected after an interview in September, Alex and a small number of emerging Australian leaders will spend four days meeting with young Chinese counterparts and a series of established diplomatic, corporate, academic and civil society leaders from both countries.
"The ACYD's invited speakers are diplomatic, business and academic leaders I would not have access to otherwise. To be able to speak with them in small groups during workshops is bound to be thought provoking," said Alex.
"I am especially looking forward to learning from the other young Australian and Chinese delegates, because they come from such an array of specialties. It's not just 'cross-disciplinary', but cutting across all kinds of sectors and fields of experience."
The group will discuss key aspects of the Australia-China relationship over a program of seminars and workshops on energy and climate change; global health and food safety risks; China, Africa and economic development; China, Australia and the USA's international relations; security and crises; governance; art and cultural exchange; philanthropy; and entrepreneurship.
Alex's doctoral research focuses on China's ethnic minorities and their languages, supervised by Professor Ingrid Piller from the Department of Linguistics. Alex lived, worked, studied and travelled in China from 2010-2013, and recently visited eight provinces for her PhD field work. She conducts her field work interviews in Mandarin, which she started studying in her lunch breaks at work six years ago.
Before commencing her PhD at Macquarie, Alex was an Australian Youth Ambassador for Development, working at a public interest law NGO called Beijing Yilian Legal Aid and Study Center for Labor. She has also taught debate and critical thinking at Beijing Foreign Studies University, adjudicated many debate tournaments in China, and received a China Scholarship Council scholarship to study Mandarin in Beijing. A graduate of Beijing Language and Culture University and Tsinghua University, she also writes for whydev.org and the blogs The China Beat and Language on the Move.
"My interests are in higher education and the NGO sector, and also in policy-making relating to those areas. I plan to be a well-informed and bi-cultural and to use the insights from ACYD in these areas after I finish my PhD," said Alex.
"Australia benefits from having people with an interest and an in-depth reality-based understanding of China. We also benefit if China has an increasingly clear understanding of Australia. I think person-to-person diplomacy and continuing exchanges of ideas are especially powerful vehicles for this."
In addition to her doctoral studies, Alex is a tutor for a course on governance and Australian policy-making in Macquarie's Law School. She represented Macquarie at the G20 Youth Forum earlier this year, adding to her extensive and varied experience that saw her selected for the 2014  Australia-China Youth Dialogue.
The Australia-China Youth Dialogue has been running annually since 2010 and promotes meaningful engagement between young adults in China and Australia who are interested in furthering Australia-China relations. More information is available at www.acyd.org.au and through Twitter @ACYDialogue.
Filed under: Campus news Events Politics Social sciences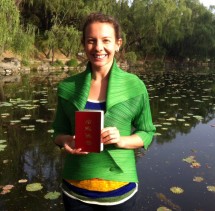 Media contact
02 9850 1055
View by category