"Intellectual traditions not just cultural knowledge": the third Patyegarang Oration
18 September 2014
Associate Professor Karen Martin from the School of Education and Professional Studies at Griffith University challenged the audience at Macquarie's third annual Patyegarang Oration to view Indigenous knowledges as a gateway to a more holistic approach to learning and higher education.
The 2008 NAIDOC Scholar of the Year with 17 years of higher education experience under her belt addressed the University Executive, Council of Indigenous Elders, Warawara Department of Indigenous Studies and the wider University community on the topic 'The role of Aboriginal knowledge in higher education in the 21st Century'.
Associate Professor Martin, a Noonucal woman from North Stradbroke Island with Bidjara ancestry, began by acknowledging the early pioneers of Indigenous education who paved the way for future Indigenous scholars such as herself. She spoke of the importance of appreciating the intellectual traditions of Aboriginal people which have been around for millennia rather than viewing Aboriginal beliefs as purely cultural or spiritual.
"I'm wanting to bring about another way for those knowledge systems, the genius and the brilliance and the sheer level of intellectualism of the Aboriginal peoples, to be known and then fully understood."
She pointed to the knowledge of the Noonucal people on water safety, which is taught to children to help them avoid the sharks and strong rips off Stradbroke Island, as an example of the practical use of these intellectual traditions. She also identified the exponential rise in the number of Indigenous PhD candidates, with 143 PhDs awarded between 2007 and 2012, as an illustration of the depth of knowledge present in Indigenous Australia.
Her major challenge to the audience was to examine how universities could balance both the transactional and relational approaches to learning to transform institutional structures and to ensure that Indigenous knowledge and culture is not only celebrated occasionally but consistently valued.
Vice-Chancellor, Professor S. Bruce Dowton urged those present "to always pay regard to the learnings that we can have from the Indigenous owners of this land and the traditions… so emboldened by a deep, deep history that far transcends anything in the Western world."
Chris Tobin, a local Darug man, gave a traditional welcome and explained the significance of the Oration's namesake; Patyegarang after a young Aboriginal girl who befriended English Lieutenant William Dawes in the early days of the colony.
The event which draws together both Indigenous and non-Indigenous thinkers, has been running since 2012 as part of Macquarie University's Indigenous Advancement Strategy.
Release by Karina Marlow, Indigenous BA-Media/LLB student as part of the SBS/NITV Mentoring program.
Filed under: Events Faculty of Arts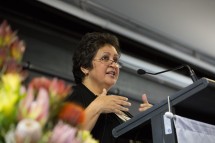 Media contact
0417 590 601
View by category