Macquarie University undergraduate science students to compete in world's premier synthetic biology competition
16 September 2014
Twelve undergraduate biomolecular science students from Macquarie University are set to compete in the International Genetically Engineered Machine (iGEM) competition, which will draw students from around the world to a jamboree style event in Boston, Massachusetts, in late October.
This year the Macquarie University team are trying to synthetically create bacteria that will produce chlorophyll.  This student-based project has the potential to lead to the production of hydrogen biofuel using bacterial cells. The team believes that this will be a milestone in both the development of a renewable energy source, as well as in deeper understanding of the genetic mechanisms behind photosynthesis.
The team's chief advisor, Dr Louise Brown, said "Synthetic biology combines engineering and science to construct new biological functions; it is a complicated but very exciting field of science that has applications in everything from medicine to energy production."
Professor Ian Paulsen, who was recently awarded an Australian Laureate Fellowship, is also an advisor for the team and will be accompanying them to the Giant Jamboree event in Boston. He said "Macquarie University has been leading Australian participation at iGEM for the last four years, and has helped spark undergraduate interest in the newly launched Yeast 2.0: Synthetic Biology project"
This year he hopes that the Macquarie undergraduate team will achieve significant honours at the event, and put Macquarie University on the world map for novel synthetic biology research.
A significant part of their project involves spreading awareness of this new and exciting field of science. Towards this the Macquarie 2014 iGEM team have developed an online reality contest titled "SO YOU THINK YOU CAN SYNTHESIZE".
Visitors of the site can vote for their favourite contestant over a period of five weeks. The winner will claim the title of "Ultimate Synthesizer" with a prize up for grabs for the best user-submitted question. Visit www.sytycs.org for details.
Team correspondent, Alice Fielding-Smith says, "Our project not only involves novel scientific research but also uses creative outreach programs to help eliminate fear and misinformation regarding the new and exciting field of synthetic biology.
Support the initiative by visiting the SO YOU THINK YOU CAN SYNTHESIZE website and vote for your favourite contestant
Filed under: Science & nature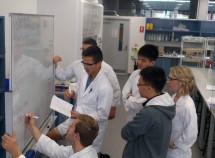 Media contact
02 9850 1055
View by category