New HR Director appointed
15 September 2014
Highly experienced HR professional Nicole Gower has been appointed Director, Human Resources at Macquarie University, and will commence in the role on 20 October 2014.
Gower has been Deputy HR Director and Head of HR Client Services at the University of New South Wales since 2010. She has over 15 years' experience specialising in human resources, industrial relations and employment law, initially as a specialist employment lawyer for a leading workplace law firm, and then as a senior HR leader in the higher education sector.
Gower maintains a legal practising certificate and has extensive knowledge and experience advising across the full range of HR issues. She is also an experienced workplace trainer, accredited mediator and conflict resolution specialist.
Chief Operating Officer of Macquarie University, Dr Paul Schreier, said Gower and her human resources leadership team would play a crucial role in the University's future.
"Macquarie University has a beautiful campus and some amazing facilities for which we are rightly well-known," he said. "But ultimately we are a community of people, of academic and professional staff united around a common purpose, and our success or otherwise will largely be dependent upon the performance of our people, how we work together and support each other."
Filed under: Campus news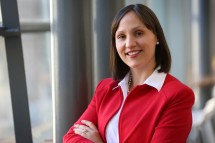 Media contact
02 9850 1055
View by category