26th Women, Management and Work conference focuses on 'Igniting leaders and Intrapreneurs'
27 August 2014
This 12 November will see the 26th Macquarie University Women, Management and Work annual conference discussing the role of intrapreneurship and leadership to develop and advance the careers of Australian women.
Held in Sydney, the conference will feature respected Australian leaders and explores how participants can use intrapreneurship and an entrepreneurial mind set to drive career growth and innovation.
Professor Anne Ross-Smith who has been involved in the conference for over 10 years, said, "This year's conference will aim to equip participants with the knowledge and tools to drive creativity and visionary change in the workplace."
"We have an amazing line up of speakers who will share insights into leading in complex and constantly changing business landscapes and how collaboration and innovation can facilitate career progress and fast track leadership," added Professor Ross-Smith.
With a mix of interactive presentations and hands-on workshops led by business leaders, the one day conference is a chance to gain practical skills to apply in the workplace and hear from inspiring keynote presenters and panellists.
The event will be organised by Macquarie University's Faculty of Business and Economics. Executive Dean for the faculty Mark Gabbott said, "The contribution of women to Australia's economic growth has been largely ignored and this is an opportunity to recognise their intrepreneurial skills and leadership talent."
Conference speaker and Macquarie University Deputy Vice-Chancellor, Deidre Anderson, said, "I fully support any opportunity where women can come together and discuss how to contribute to business leadership. Conferences such as the Women, Management and Work Conference provide an excellent forum to share experiences."
Participants have the opportunity to attend the gala dinner which will feature international celebrity and Macquarie University alumni speaker, Soula-Marie Perdis, COO of Napoleon Perdis, USA.
Conference topics include: 
• Personal mastery to accelerate your career
• Organisational recruitment and retention: Diversity driven decisions
• Own your management style
• Digital techniques for new ideas
• Making collaboration work and dealing with chaos and constant change
• The role of sponsors in leadership
Confirmed speakers include: 
• Soula-Marie Perdis, COO of Napoleon Perdis
• Deborah Harrigan, Dell APJ Sales and Marketing
• Sue Ismiel, CEO and Founder of NADS
• Angela Lovegrove, Regional General Manager, Telstra Business
• Air Commodore Robert Rodgers, Director General Personnel, Air Force
• Sandy Wright; Executive Development Manager, AMP
• Natalie Walker, Indigenous Advisory Board Member, NAB
• Dr Sally-Ann Ernst, Doctor of Corporate Entrepreneurship
The Women, Management and Work Conference attracts established and up and coming female leaders and those interested in the women in leadership agenda.
The event will also be supporting the not-for-profit organisation, Dress for Success, by encouraging participants to bring clothing, shoes, makeup and accessories to a drop box at the conference. Dress for Success promotes the economic independence of women in need. The organisation provides clothing and styling advice for women who may be seeking to re-enter the workforce after a period of unemployment or any circumstances when access to these services would make a difference.
Details: 
Date: Wednesday 12 November 2014
Venue: Sheraton on the Park, 161 Elizabeth Street, Sydney
Cost: $1,450 per ticket inc GST
Early Bird Special Rate: $1160.30 inc GST valid until 31 August 2014.
Media passes available upon request
For more information visit: http://be.mq.edu.au/wmwc2014 
Filed under: Events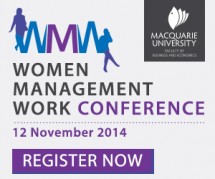 Media contact
02 9850 1055
View by category