Professor Ian Paulsen awarded Australian Laureate Fellowship
25 August 2014
Professor Ian Paulsen, Professor of Genomics and Deputy Director of the Macquarie Biomolecular Frontiers Centre has been awarded a prestigious Australian Laureate Fellowship. Paulsen will receive $2.7 million in new funding to boost his research into bacteria and its effect on the marine food web.
"When people think of bacteria, they usually just think of them as germs that cause disease," says Paulsen. "But bacteria actually play crucial roles in all sorts of systems – they were responsible for the original oxygenation of earth's atmosphere and without bacteria there would be no life on the planet."
Paulsen's research has focused on understanding microbial physiology and evolution, in particular in utilising 'big picture' or global approaches such as genome sequencing, metagenomics and systems biology. This new project "Building virtual cyanobacteria: moving beyond the genomics era" will continue his investigation.
More specifically, Paulsen's research into photosynthetic bacteria will enhance monitoring of the health of Australia's vital marine resources. "Photosynthetic bacteria in the ocean are responsible for a quarter of the carbon fixation on earth and provide the underlying base for the entire marine food web," says Paulsen.
"Despite their importance, we are only starting to understand how they adapt to different conditions in the ocean. My project aims to advance our biological understanding to a point where we can computationally model these organisms at both a single cell level and at a global ecosystem level across the world's oceans."
Macquarie University's Deputy Vice-Chancellor (Research), Professor Sakkie Pretorius, recognises Paulsen as an outstanding researcher: "Professor Paulsen is a super black-belt in our field – with more than 200 publications, he is an Institute for Scientific Information (ISI) Highly Cited Researcher and one of the world's top scientific minds."
The Australian Laureate Fellowships scheme, administered by the Australian Research Council, gives outstanding research leaders the opportunity to tackle some of the most urgent and complex research issues facing Australia and the world.
The award was announced by Minister for Education, the Hon. Christopher Pyne MP, at a ceremony in Adelaide. "This funding scheme supports researchers of international repute and these Fellowships will play an important role in meeting the Australian Government's commitment to ensure Australia successfully competes on the international research stage," Mr Pyne said.
"The outcomes of these Fellowships will make a valuable contribution to Australia's knowledge base and prosperity. Fellows will also mentor our young researchers, which is vital if we are to continue to produce world-class research."
Filed under: Research Science & nature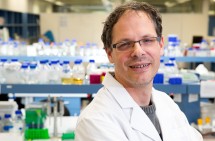 Media contact
02 9850 1055
View by category