Aerobics champion brings home gold from the Gold Coast
14 August 2014
Macquarie University Sport Aerobics Sport Scholar, Chloe Wilson, has been crowned 2014 Senior Elite Individual Female National Champion after achieving impressive results in the Schoolaerobics National Championships, August 2014.
Taking place on the Gold Coast, Queensland, Chloe was successful in scoring 87.47 in the Finals, which was one of the highest scores of the day. Chloe's score was over six points higher than her opponents and resulted in her taking home a Gold medal for NSW, as a representative of Macquarie University.
This achievement follows her efforts at the Preliminary Finals and State Schoolaerobics Championships earlier in the year, where she was placed first in the Senior International Individual Female Section. In one particular round in the previous competitions, Chloe scored 94.10 out of 100, which is the highest score received out of every category in the nation so far this year.
Her efforts at the recent Schoolaerobics National Championships mean that Chloe is now eligible to represent Australia at the Asian Games held in Osaka, Japan towards the end of the year.
Chloe is in her third year of a Bachelor of Psychology Honours degree and was awarded a Full Blue sporting award last year.
Filed under: Sport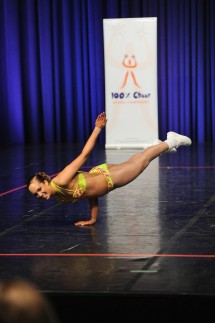 Media contact
02 9850 1055
View by category