Eureka nomination for scientist tackling the most significant global issue of today: climate change
11 August 2014
Macquarie University ecologist Professor Lesley Hughes is a finalist in the Australian Museum Eureka Prizes in the category 'Promoting Understanding of Australian Science Research' for her work communicating climate change science.
"Climate change is the most critical environmental, social and economic problem of our time," says Professor Hughes. "The scientific case for climate change action has never been stronger. We know why the climate is changing, and we have the knowledge and technology for effective solutions."
Professor Hughes is a member of the Department of Biological Sciences at Macquarie University and is currently the Acting Deputy Executive Dean in the Faculty of Science. Her research over the past two decades has been dedicated to understanding the impacts of climate change on Australian species and ecosystems. She is a Councillor with the Climate Council of Australia, a Lead Author for the Intergovernmental Panel on Climate Change (IPCC) Fourth and Fifth Assessment Reports, and a member of the Wentworth Group of Concerned Scientists.
The Australian Museum Eureka Prize for Promoting Understanding of Australian Science Research is sponsored by the Department of Industry and is designed to encourage the efforts of individual scientists who communicate their contemporary work and/or field of scientific expertise to the general public thereby encouraging community appreciation of the contribution that Australian science makes to our everyday lives.
The prize is intended to recognise and promote the efforts of scientists who actively engage with the public to communicate their research to a broad range of audiences in understandable, diverse and engaging ways.
The winners of the Australian Museum Eureka Prizes 2014 will be announced at a gala dinner on Wednesday 10th September.
Contact: lesley.hughes@mq.edu.au, (02) 9850 8195
Filed under: Research Science & nature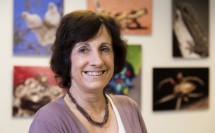 Media contact
02 9850 1055
View by category