Macquarie University places third at Eastern University Games
25 July 2014
Close to 200 Macquarie University students have returned from the 2014 Eastern University Games in Newcastle with one gold, three silver and two bronze medals, placing the University third overall. The students competed across ten sports at the four-day competition.
From the outset, Men's Basketball Captain Daniel Jones promised to deliver a gold medal. True to his word, the team finished the competition undefeated. Going into their grand final Men's Basketball Coach Curt Forrester said it was going to be a tough game up against the home team Newcastle University. At the game's completion Curt said, "I knew we could do it, it was only a matter of time." 

Mixed and Men's Oztag were both strong teams at the Games, respectively winning bronze and silver. By the end of the second day every player from each team had scored a try, proving the strength of all players. On Tuesday, Mixed Oztag versed Australian Catholic University and at half time had a comfortable 17 tries. However Team Captain James Pilkington encouraged his team not to drop their performance. "Let's make it 40," said James.
Women's Hockey coasted through their pool matches to the Final match, and ultimately walked away with silver. On the second day of the Games Women's Hockey broke the record of the largest win by a Macquarie University Hockey team, defeating The University of Sydney, Cumberland Campus 18, nil. The next day they continued their domination with a massive 13 – nil win over Charles Sturt University, in which even their keeper scored. Keeper Caroline said, "It felt like I'd won the gold medal when I scored."
Men's Hockey came fourth and said goodbye to their veteran Captain Ahad Malik. Ahad, known as "Silver", has represented Macquarie University at a total of seven University Games over the past four years.
Men's Football won silver after going down in a close match against archrivals University of Technology, Sydney.
Former gold champions, Ultimate Frisbee, lay claim to a bronze medal.
Macquarie was also represented in more niche sports such as golf. First year Commerce student Lishan Sung has been playing golf for only about two years, but already she shows a natural flair for the game. She's clearly a sporting prodigy; along with playing golf, Lishan is currently ranked Number One in Australia in the Opens, U23, and Junior categories for fencing. In golf, Lishan finished fourth at Eastern University Games and for fencing she hopes to go to 2016 Olympic Games in Rio de Janeiro.
Filed under: Sport Uncategorized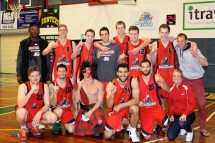 Media contact
02 9850 1055
View by category