Macquarie University announces Academic Health Sciences Centre
7 July 2014
Vice-Chancellor Professor S Bruce Dowton today announced the creation of a new Faculty of Medicine and Health Sciences at Macquarie University. The Faculty is a significant step in the establishment of Australia's only Academic Health Sciences Centre, accelerating the University's quest for distinction at the intersection between medical research, healthcare and higher education.
The Academic Health Sciences Centre is a partnership between the University and healthcare providers, with an integrated approach to research, clinical services, education and training. This research and healthcare model is used by many of the world's leading academic institutions and hospitals, including Johns Hopkins University School of Medicine, UCLA, Mayo Clinic and many others in the United States. It ensures that medical research breakthroughs lead to direct clinical benefits for patients.
There are similar models in operation in Canada, the Netherlands, Singapore, Sweden, and the United Kingdom, but a university-led and located Centre has not been established in Australia to date.
Macquarie University already boasts Australia's only high-technology private hospital owned and operated by a university and a postgraduate medical research and teaching school. With the establishment of a medical faculty, it has passed another important milestone.
The University's plans for an Academic Health Sciences Centre were outlined in its strategic framework, Our University: A Framing of Futures, released last year.
"Over recent years, Macquarie has made major investments in targeted areas that have strong external relationships, e.g. medicine, healthcare and hearing. We need to consolidate and expand these investments," wrote Professor Dowton.
"Therefore, we will extend our engagements locally and beyond by delivering Australia's first university-led academic health campus to bring education, bio-medical and translational research together with state-of-the-art clinical care."
Professor Dowton is an expert in innovative healthcare systems, having previously served as Executive Vice-President and Chief Operating Officer of Harvard Medical International. In launching the new Faculty and Academic Health Sciences Centre, he outlined the next steps in this development, including a focus on greater NHMRC funding and the establishment of a novel pre‐registration medical teaching program.
"Macquarie University is unique among Australian universities, with maturity and achievement in our University Hospital and the Australian School of Advanced Medicine. Evidence from the US confirms that bringing these enterprises into full convergence improves healthcare and patient outcomes, and accelerates the conversion of laboratory‐based discovery into clinical practice, enabling us to deliver a level of healthcare unprecedented in this country that will benefit all of our society."
Filed under: Campus news Featured Health & medicine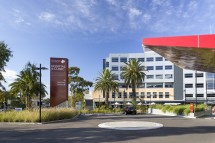 View by category