Two of Macquarie University's best and brightest to represent Australia in the Asian region
27 June 2014
Macquarie University students Cindy Huang and Sharfah Mohamed were presented with prestigious New Colombo Plan Scholarships at an awards dinner hosted by the Minister for Foreign Affairs in Canberra this week.
They were among just 40 university students between 18 and 28 years of age across Australia selected for the highly competitive scholarships, worth up to AU$67,000 each.
The New Colombo Plan (NCP) is an Australian Government initiative that aims to lift knowledge of the Indo-Pacific region and strengthen our people-to-people and institutional relationships, through study and work placements undertaken by Australian undergraduate students in the four pilot locations of Singapore, Indonesia, Hong Kong SAR, and Japan.
Deputy Vice-Chancellor (International) at Macquarie University, Professor Jim Lee, said that the NCP provides an unprecedented opportunity for Macquarie to engage with Asia, in which Cindy Huang and Sharfah Mohamed would be outstanding ambassadors for the University and Australia.
"Macquarie is well-positioned to benefit from the NCP, enhancing our integrated, global-engagement strategy that aligns strongly with Macquarie University's Strategic Plan, Our University: A Framing of Futures," he said.  "Cindy and Sharfah are very impressive young Australians of whom we are tremendously proud; given their accomplishments at such a young age, it's exciting to think of their potential as future leaders within Australia and the role they can play in strengthening relationships with our regional neighbours."
Sharfah Mohamed of Epping is a double-degree (Bachelor of Arts-Psychology/Bachelor of Laws) student at Macquarie who entered the University on a Merit Scholarship in 2013 and has won a Macquarie University Alumni Prize for academic achievement. She volunteers with the University's Indigenous Mentoring Program, providing academic and social support to Aboriginal high school students. She is also a member of the Macquarie University Muslim Students Association raising funds for charities and helping to dispel misconceptions about Islam in the community. Prior to joining Macquarie, Sharfah was School Captain of Cheltenham Girls High.
"The NCP Scholarship provides a meaningful platform for me to foster personal and professional relationships in the Indo Pacific region in order to enhance my cultural awareness and understanding of the region," she said.  She will study law at the prestigious National University of Singapore from January to June 2015.
Cindy Huang of Pennant Hills is a double-degree (Bachelor of Arts-Japanese Studies major/Bachelor of Laws) student, who also entered Macquarie as a Merit Scholar, and has since achieved a High Distinction average. In 2013 she was awarded a prestigious Undergraduate Research Scholarship at the University. Cindy's volunteering work includes serving on the Executive Board of the Macquarie University chapter of AIESEC, the world's largest, not-for-profit, youth run organisation, and visiting school students in low-socioeconomic schools to teach LEGO robotics as part of the Bridges to Higher Education scheme.
In 2013 she was also an Australia & New Zealand Google Ambassador.  Cindy will study commerce at Japan's Waseda University in the first half of next year, stating, "I hope to immerse myself in the rich Japanese culture and embark on a transformative experience; I want to challenge myself and live outside of my comfort zone."
Filed under: Uncategorized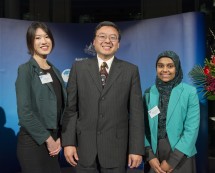 View by category