Macquarie University Sports Scholars represent Australia in the University World Championships
26 June 2014
Three Macquarie University Sport Scholars have been selected to join Australian University Sport high performance 'Uniroos' team, to compete in their respective events at the 2014 World University Championships, held in separate locations around the world.
Jennifer Tam of Eastwood, a badminton sensation, has been selected to compete at the badminton Championships in Spain. Currently the top ranking junior and senior badminton player in NSW, Jennifer is also the third highest ranked player in the Oceania Region in the Under 19 division.
Jennifer is excited to be part of the Australian Uniroos team and is excited to get a taste of international competition. She hopes to use her experience at the World University Championships to assist in her selection for the 2016 Olympic Games.
"I love the feeling you get on court, the rallies, and I love the intensity of the game." Jennifer said.
Macquarie University student John Georgas is a karate competitor, and will compete in Montenegro in the karate Championships. John trains five days a week in a mix of karate techniques, speed, and strength training, with a great emphasis on recovery.
Currently studying a Bachelor of Law and a Bachelor of Commerce, John is aiming to graduate with a minimum distinction average in all of his units while balancing karate training and competition commitments.
Along with Jennifer and John, Jessica Pollard will also be competing in Italy at the Championships in Sailing – Match Racing. She is extremely excited to be representing Macquarie University and her country.
Filed under: Sport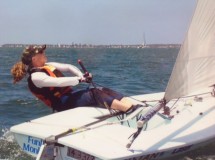 Media contact
02 9850 1055
View by category