Macquarie University Sport Scholar retains number one rank in Australian fencing
24 June 2014
Macquarie University Fencing Sport Scholar, Lishan Sung, has retained her number one ranking in the open, under 23, and junior categories of Australian fencing, in two national competitions.
Having travelled to Adelaide over the Queen's Birthday long weekend to compete, the first competition was the AFC2 Robyn Chaplin Open National Tournament, in which Lishan won a gold medal for the second year in a row.
The second competition was the inaugural Under 23 Fencing Championships, where Lishan also won, becoming the first person ever to win an Australian Under 23 Fencing Championship in all categories.
Lishan will be competing in numerous fencing competitions throughout the year including state, national, and international championships. This year Lishan is also aiming to improve her ranking in the 2014 Asian Senior Zone. Her ultimate goal is to qualify for the 2016 Olympic Games in Rio de Janeiro.
At just 18 years of age, and undertaking her Bachelor of Commerce with Bachelor of Arts – Psychology (1st year) at Macquarie University, Lishan is showing great sporting prowess across a range of sports. Next month she will be representing Macquarie University, playing golf at the 2014 Eastern University Games (Newcastle, Sunday 6 to Thursday 10 July).
Filed under: Featured Sport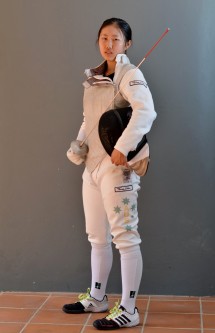 View by category