You are more than your ATAR
20 June 2014
Macquarie University has introduced the Global Leadership Entry Program (GLEP) to allow early entry for select Year 12 students before they even finish high school.
Instead of singularly judging students by their ATAR, Macquarie is seeking students who share its values and, in the case of the GLEP, have aspirations for global engagement and leadership that can complement academic ability.
"In some cases, the ATAR may not be the best tool for evaluating whether or not a student will succeed in their chosen degree," said Professor S Bruce Dowton, Vice-Chancellor. "It can be a good predictor for some students, but its predictive value revolves around like-for-like; so a student who does well in a limited, exam-based HSC system will likely do well in a university whose approach is based on similar methods of assessment."
The University is keen to develop leadership, engagement, creativity, critical thinking, communication and career-readiness skills that may be better learnt in other ways, and in these areas the ATAR can be too blunt an instrument to determine ability.
"By guaranteeing them a place in a relevant degree and entry into our respected and well established Global Leadership Program, we can support them during the end of their year 12 studies and help prepare them for their time at University," said Professor Dowton.
Until recently, only enrolled Macquarie students could enter the Global Leadership Program. Now, in addition to receiving early entry into the University, high school students will also be able to participate in GLP activities, including the distinguished speaker series.
Early entry is available for a limited number of single degrees:
Advanced Science
Ancient History
Business Leadership and Commerce
Engineering
Global Business
International Studies
Law
Marketing and Media
Psychology (Hons)
Successful applicants will be able to access early enrolment, pre-study programs and library access privileges during 2014. For more information, and application forms, visit the GLEP website 

Filed under: Learning & teaching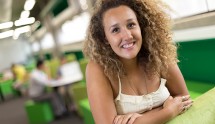 View by category