Sport Scholar set to compete in Jakarta at the Karate1 Premier League
13 June 2014
Macquarie University Sport Scholar Alexandra Gallo has been selected to represent Australia at the World Karate Federation (WKF) Karate1 Premier League (WPL) in Jakarta from Friday 20 to Saturday 21 June 2014.
The WKF Karate1 Premier League (WPL) is the prime league event in the world of Karate. Together with the WKF Karate1 World Cup (WWC) it is a series of world class Karate competitions recognised and supported by the World Karate Federation. The event aims to bring together the best Karate competitors in the world in a series of open championships of unprecedented scale and quality.
Academically, Alexandra compliments her sporting pursuits with her first year studies in a Bachelor of Commerce with Bachelor of Arts – Psychology degree (Honours).
Congratulations on your selection Alexandra and all the best representing Australia in Jakarta!
Filed under: Sport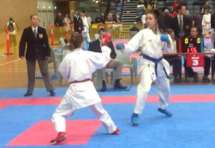 View by category