Sport scholars selected for the 2014 Oceania Area Athletics Championships
3 June 2014
Sport scholars Allie Bartholomew, Sean Fitzsimmons and Nicholas Bate have recently qualified to compete in the 2014 Oceania Area Athletics Championships this June.
They are set to compete in Rorotonga, Cook Islands, from 24-26 June 2014. The event will welcome athletes from across the International Association of the Athletics Federation (IAAF) region for three days of competition to determine the Oceania champions for 2014.
The Oceania Area Athletics Championship will be Allie Bartholomew's first time representing Australia. 'I think the competition will provide an excellent opportunity for me to experience an international competition and help me to prepare for even bigger competitions in the future. The preparation involves my regular training program and just making sure I stay healthy!' she said.
Sean Fitzsimmons is honoured to have been selected and commented 'I will do my best to bring home a medal or two'.
Nicholas Bate is also very excited to compete in the Cook Islands and narrowly missed selection for the World Junior Championships.  This will be Nicholas' first international competition and overseas trip. "In preparation for the event, I increased my track training volume and altered my gym program in order to have as much strength in time for competition."
Macquarie University Sport wishes Allie, Sean and Nicholas all the best at the Championships.
For further information:
Brenda Lazcano, Marketing Executive brenda.lazcano@gmail.com or 9850 1104
Filed under: Sport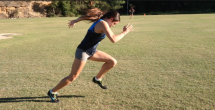 View by category