Sport scholar experiences continued water polo success despite tight schedules
2 June 2014
After eight months living in Budapest playing for the Ferencvaros Water Polo Cub, Macquarie University Sport Scholar Tyler Martin is back home in Sydney for a fleeting moment before he makes his way across Asia and Europe to compete in the Water Polo World League.
Tyler returned to Australia briefly in January for a training camp with the National Team where he played two exhibition matches against Croatia (winning and drawing in respective games) and beating Russia.
His club Ferencvaros in Budapest missed out on the Finals in Hungary by one game but, overall, it was a very successful year for the young water polo player. Tyler scored 66 goals in 30 games and finished the competition year as the 5th highest goal scorer in what is regarded as the strongest competition in the world; the European Water Polo Championship.
Tyler's success continues, as he travels to Shanghai with the Australian team to play in the World League Preliminary Rounds. From here, he will move on to Dubrvnik, Croatia and Belgrade, Serbia for one week and three days respectively before heading to Dubai for the World League Finals.
Tyler is doing an amazingly well balancing university life with his sporting commitments and is only a few subjects away from graduating.
"I am still tossing up the possibility of another degree or adding to my current Bachelor of Commerce", Tyler said.
Despite his tight schedule, Tyler is also looking at growing a small swimwear business at the same time: www.delfinasport.com
With study, sport and small business commitments, Tyler is aiming to return to Europe and is looking forward to another year competing overseas.
Filed under: Sport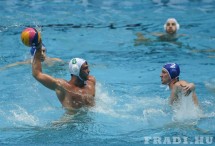 View by category