Macquarie's sporting stars qualify for Commonwealth Games 2014
23 May 2014
This year, three of Macquarie University's sporting elite, Laura Crockart, Melissa Wu and Carissa Holland have been chosen to represent Australia in the 2014 Commonwealth Games within the fields of swimming, diving and wrestling.
Among those selected is Laura Crockart, a Bachelor of Arts student and Swimming sports scholar, who specialises in the 1500m freestyle.
The Ryde local smashed the Australian and Commonwealth record for the women's 1500m freestyle at the Australian Short Course Swimming Championships.
Crockart said she was ecstatic when she learned she had made the team. "Since this is the first major Australian team I've been in, I am absolutely thrilled."
Melissa Wu is also among those selected to represent Australia at the Games. Melissa sprung into the international diving scene at the age of 13 at the 2006 Commonwealth Games in Melbourne. She is a Platform Diving specialist now heading to her third Commonwealth Games.
"I've been training really hard leading up to this competition, working on strength and consistency," Wu said. "I came into this feeling pretty well prepared, so I'm glad my competition reflected the way I've been training."
Melissa is set for a strong Glasgow performance after just missing a medal at last year's Barcelona World Championships. "I love it, I feel really relaxed out on the board, I'm having a good time, I'm always smiling up there," Melissa said.
Melissa is currently studying a Bachelor of Arts – Media at Macquarie University and was awarded the Female Sport Athlete of the year in 2011.
Carissa Holland comes from a very successful sporting career in Freestyle Wrestling. Starting at the age of nine, she currently has 15 National Championships under her belt.
Carissa is very proud of her career so far, including her recent qualification for the Commonwealth Games in Glasgow. She is a personal trainer and fitness coach and draws her inspiration from her clients. "I can't wait to take part, it is so close.  I am very glad that I have the support of family, friends and clients," Holland said.
Laura, Melissa and Carissa are all current Macquarie University students and aim to manage their studies to the best of their ability while maintaining a strict training schedule.
Filed under: Sport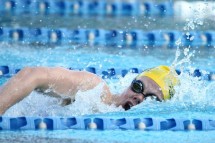 View by category