New York, New York: first Jubilee alumni reception takes place in the big apple
22 May 2014
Vice-Chancellor Professor S Bruce Dowton and the Macquarie University Alumni office recently hosted US-based graduates at a reception event in New York, to celebrate the University's 50th anniversary.
Deputy Vice-Chancellor (Corporate Engagement & Advancement) Professor David Wilkinson was the Master of Ceremony of the evening, which was the first of its kind to take place in New York City, and the first of similar events to take place around the globe in 2014.
As well as showcasing the University's recent achievements and updating alumni about key developments on campus, the event allowed guests to network with fellow alumni and deepen their ongoing relationships with the University.
Among the event speakers was Senior Trade Commissioner of Austrade in New York, Mr Richard Leather. As a 1991 Bachelor of Economics graduate, Mr Leather spoke about his time at Macquarie and his connections with US alumni community.
Guest speaker Trent Vichie also spoke about his enjoyable time at Macquarie, and shared his story of developing a successful business in New York City. Mr Vichie, a Co-Founder and Senior Managing Director of Stonepeak Infrastructure Partners, received a Master of Economics in 1996.
In the Vice-Chancellor's address, Professor Dowton spoke about the valuable role of Macquarie's alumni in the University community, and his dedication to continuing the relationship with them beyond graduation.
Throughout its jubilee year, Macquarie will endeavour to engage with 150,000 alumni making their mark across 140 countries in every sphere of endeavour. Similar alumni events are set to take place throughout the year in London, Hong Kong, Beijing and Shanghai, with more information here.
Filed under: Alumni Events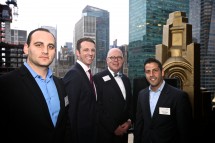 View by category