Sport Scholars soar to success with third consecutive national championship win
21 May 2014
Macquarie University Sport Scholars Jimmy Tod-Hill and Tom Tulett have recently achieved a hat trick of first place wins at the National Championships in Ultimate Frisbee.
Jimmy and Tom, along with members of their Sydney Nationals Team, 'Colony Pillage', competed in late April at the Australian Ultimate Frisbee National Championships, successfully taking out the title for the third consecutive year.
The Colony Pillage team won the final against a Canberra team, proving to be an exciting game of play with close final score of 15-10. Fellow Macquarie University student, Nathan Linforth also played as a member of the team, as did Macquarie University alumni Matthew Dowle.
Hosted in Werrington, Sydney, the Australian Ultimate Championships combine a separate Men's and Women's competition at a single venue as the centerpiece of Australian ultimate. The competition consisted of 16 men's teams and 16 women's teams over four days of competition.
Jimmy and Tom are now in training with the Macquarie University team in preparation for the Eastern University Games which will be held in Newcastle, NSW on 6-10 July 2014.
For more information:  Jean Posthoorn, Assistant Marketing Manager, jean.posthoorn@mq.edu.au or 9850 9494
Filed under: Sport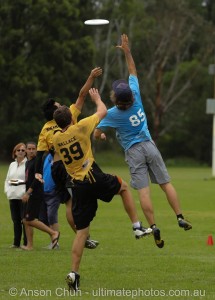 View by category