International student Donald Cameron wins two silver medals in 2014 Swiss Trials
6 May 2014
Macquarie University international student Donald Cameron swam a personal best at the recent 2014 Swiss Trials, winning two Silver medals.  His recent achievement awarded Donald second best in the all-time rankings in Switzerland in the 200m and 400m Individual Medleys Male.
After a hiccup on the second day of competition, which almost resulted in a dropout, Donald surprised his opponents by winning the B-final (9th overall). Day three saw Donald win a Silver medal, out-touched by only 0.28 seconds by the now Swiss champion. On the final day of competition, Donald improved by another two seconds, securing a second Silver medal and narrowly missing the qualifying time for the Swiss National team by 0.34 seconds and the European Championship team by 0.64 seconds.
"The toughest part of going home to compete is always the transcontinental flight, as this requires my body clock to adjust to the new time zone. The adjustment costs me my water sensation; therefore, I never know until my first race whether my final preparations were successful. However, as soon as I swam my first heats on day one, 50m fly and 200m breaststroke, I knew I was ready."
As a Macquarie University Sport Scholar, Donald represents the Swiss Swimming team as well as Swimming Australia. 2013 saw Donald qualify and compete in the World University Games in Kazan in the 50m, 100m, 200m Backstroke and the 400m IM for Switzerland. Soon after the World University Games, Donald was selected for the Swiss team in the World Cup stations in Eindhoven (Netherlands) and Berlin (Germany) where he swam every race at a personal best.
"Currently I am back into full training, as I am preparing for the Mare Nostrum tour in June. This tour consists of three stations, the first in Monaco, second in Canet, and final in Barcelona. This tour counts as a qualifying meet for the European championships, so my goal is to shave off 0.64 seconds off my 200m IM personal best and make the team for Berlin."
In the near future, Donald hopes to participate in the Oceania Championships in New Zealand where he looks to shave off 0.7seconds off his 200m Individual Medley time, qualifying him for the European Championships in August. 2014 is set to be another important year for Donald who consistently continues to improve in each competition. 
Filed under: Campus news Sport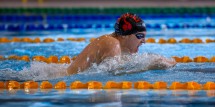 View by category