Patients win as Macquarie University Cancer Institute and Library join forces
29 April 2014
Having the best available information for cancer patients was the driving force behind the new Patient Education Resources for Cancer LibGuide, recently created by Macquarie University Library in collaboration with the Macquarie University Cancer Institute (MCI).
"The information out there can be overwhelming, especially for a patient recently diagnosed. Our aim was to provide a single location with the best available resources for patients and families" said Mary Simons, Clinical Librarian at Macquarie University Library.
The concept was supported by the MCI team of Professor John Boyages, Collette Tosen and Vicki Michael, and the recently completed guide has now been embedded into the Macquarie University Hospital and MCI websites.
"The Library had already created an excellent guide to resources for clinicians, but we all recognised the need for something similar for patients" said Professor Boyages.
Working closely with MCI staff, in particular Collette Tosen, librarians Christine Yates and Karen Saupin took on the task of creating the Patient Education Resources for Cancer LibGuide. The guide covers all areas of the MCI including breast, gastrointestinal, neuro-oncology, urology, head and neck and lung cancers. There are also links to more practical information such as How to Tie a Head Scarf.
Feedback from patients has been positive, with many feeling reassured that they can now get credible, up to date information without having to go and search.
There are plans to develop the idea further with a high level information service for brain cancer patients and their families in collaboration with the Director of Neuro-Oncology MDT Dr Andrew Davidson.
Filed under: Health & medicine Library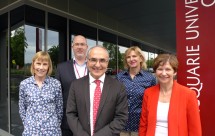 View by category