The Rt Hon Malcolm Fraser AC CH receives honorary doctorate from Macquarie University
16 April 2014
The Rt Hon Malcolm Fraser AC CH has today received the award of the degree Doctor of Letters honoris causa from Macquarie University, recognising his long and distinguished career as a politician, academic, newspaper columnist and humanitarian.
Fraser received the award at an afternoon graduation ceremony for the Faculty of Arts, where he also presented an occasional address. "Our graduates are greatly privileged to be addressed by such a leader on their graduation day," said Vice-Chancellor, Professor S. Bruce Dowton. "Malcolm Fraser has had profound influence on national and international discourse over many decades."
Fraser explored several topics during his address, from the role of education in Australia's competitiveness to the government's imperative to fund higher education.
"If Australia is to have the kind of future that we want, that will enable everyone to find the kind of jobs that will give satisfaction and adequate reward, the best and the most important investment we can make as a nation, is in quality education," Fraser said.
"Our future rests … in quality education from day one, to day end, in enabling Australians to unleash their skills, their talents, their imagination, to encourage them to experiment, to be progressive, to do new things, to have the courage to do it differently and to do it better. The challenge is to stay ahead because new nations emerging from poverty have many bright people who work extraordinarily hard.  They want to get away from where they were and Australians are going to have to do their best to keep up, to stay ahead."
Fraser served as the 22nd Prime Minister of Australia from 1975 to 1983, and has remained an active force in national and international public affairs.
"In my view…education is the best and most important investment that this country can make. I am not sure that our governments understand this message adequately.  Over the last 20 years, governments have actually withdrawn from the funding of education and much of that has been replaced by dependence upon full fee paying students from overseas.  That, I believe, is a policy that is not sustainable over the longer term.  Government investment in education is still an essential ingredient of maintaining quality education. If universities are to continue to grow in stature, in strength, and serve the needs of this country, governments are going to have to make a greater investment in education."
Born in Toorak, Victoria, in 1930, Fraser graduated from the University of Oxford in 1952 with a degree in philosophy, politics and economics. He entered Federal parliament as the 'Baby of the House' at the age of 25, when he won the seat of Wannon in 1955. After serving on the backbenches for the next decade, he was appointed as Minister for the Army in 1966, and subsequently served as Minster for Education and Science, and Minister for Defence, before the Labor victory in 1972 moved his party into Opposition.
Assuming party leadership in March 1975, Fraser was appointed caretaker Prime Minister by Governor-General Sir John Kerr in November of that year. His party won the December election with the largest landslide in federal electoral history, and Fraser remained Prime Minister until March 1983. During his tenure he had an important influence on the changing relations of countries within the British Commonwealth, and on Australia's relations with the countries of East and Southeast Asia.
After holding fellowships at two US institutions in 1984 and 1985, he returned to public service as the chairman of the United Nations Panel of Eminent Persons on the Role of Transnational Corporations in South Africa and, from October 1985 to August 1986, jointly chaired the Commonwealth Group of Eminent Persons against Apartheid in South Africa.
In 1987 Fraser formed CARE Australia as part of the international CARE network of humanitarian aid organisations. He was chairman from 1987 until 2002, and president of CARE International from 1990 to 1995. He has negotiated the release of CARE workers imprisoned during the Yugoslav civil war, and acted as an international observer at elections in Pakistan.
In 1988, Fraser was awarded the Companion of the Order of Australia and in November 2000, he was awarded Australia's Human Rights Medal for his contribution to the advancement of human rights in Australia and internationally.
He remarked that he was "extraordinarily honoured" to be granted this award from Macquarie University.
Filed under: Campus news Events Uncategorized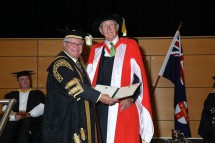 View by category