Researcher gleans Gallipoli's untold stories
16 April 2014
On the eve of Anzac Day 2014, Harvey Broadbent, Director of the Gallipoli Centenary Research Project, will present findings from his six-year research project into the 'stories from the other side' at a public seminar.
As part of his research for the book Gallipoli, The Fatal Shore, published for the 90th anniversary of the campaign in 2005, Harvey travelled to Turkey to investigate whether or not the Turks knew of the coming landing.
"The Anzac narrative was by then well documented, with a large canon from the ANZACs and British, but we couldn't say the same for the other side. I had heard about other researchers who were just getting access to Turkish military archives, so wanted to find out more."
His curiosity sparked, Harvey approached Macquarie University and gained support for a pilot research program in collaboration with Turkish universities.
The pilot program revealed sources of new archival material in three significant collections, including previously unseen and untranslated battlefield operational reports, maps (including aerial reconnaissance), intelligence, reconnaissance and interrogation reports, reports of Allied shelling and War Ministry communications.
In 2006, the pilot program lead to a formal ARC-supported project, and a significant cross-country collaboration in partnership with the Australian War Memorial. From 2007 to 2013, Harvey translated more than 2,500 pages of documentation from these archives, and is now putting finishing touches on a 180,000 word book detailing the new primary sources.
"As a historian, you strive to find out the truth about history. For something as important to Australia as the Gallipoli campaign has turned out to be, it is essential to find out the facts, and we've never had a comprehensive account.
What we've known of the Turks so far has been general and superficial, from limited sources. Even the Turks haven't transliterated most of their own documents (from the archaic language of Osmanlinca to contemporary Turkish), so we're really breaking new ground by doing that – both for Australia and Turkey."
Leading up to the centenary next April, and in addition to the upcoming release of his book, Harvey has signed up to be a historical adviser to the ABC and Channel 9, to appear at a range of speaking events including on a study cruise arriving at Gallipoli Cove on the centenary, and to publishing the 2,500 Turkish military documents online as a substantial hub of primary sources for future scholars.
Gallipoli: A Turkish Perspective
There are two sides to every story of conflict. So it was at Gallipoli. Harvey Broadbent has been researching and translating the Turkish Gallipoli documents and will be joined by Turkish military historian Associate Professor Mesut Uyar to present the other side of the Gallipoli story in this special seminar.
24 April, 7pm, Sofitel Wentworth
Entrance is free but registration essential: info@bayram.org.au / (02) 9669 1448
Filed under: Events Faculty of Arts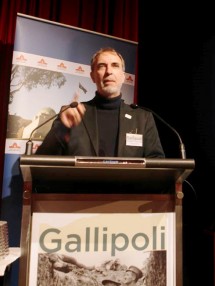 Media contact
0417 590 601
View by category